Politics
Clinton and Sanders compete for Latino vote; vow to end child deportations
Clinton and Sanders compete for latino vote; say no to child deportations
10 Mar 2016 – 01:39 AM EST
If elected president, both former Secretary of State Hillary Clinton and Vermont Senator Bernie Sanders pledged not to deport the children of undocumented immigrants, or their families, during a Democratic Party debate on Wednesday in Miami, less than a week before Florida holds its presidential primary.
In a debate tailored for a Hispanic audience, both candidates sought not to be out-flanked on the immigration issue, vowing to back comprehensive immigration reform and a pathway to citizenship for the estimated 11 million immigrants, mostly Hispanic, residing illegally in the country.
The stakes were high with the important Florida primary only a few days away, where the Hispanic vote plays a key role. The debate, hosted jointly by Univision News and The Washington Post , also came barely 24 hours after Sanders pulled off a narrow, surprise victory in another key state, Michigan, raising expectations of a closer than expected race for the Democratic Party nomination. While Clinton holds a commanding overall lead in delegates, Sanders has shown her to be vulnerable in industrial states hard hit by the recession where his more radical message of +change has resonated.
Heading into Tuesday's primary, Clinton leads n Florida by a wide margin of 38 points over Sanders, based on the latest poll of registered Democratic Party voters commissioned by Univision Noticias and The Washington Post.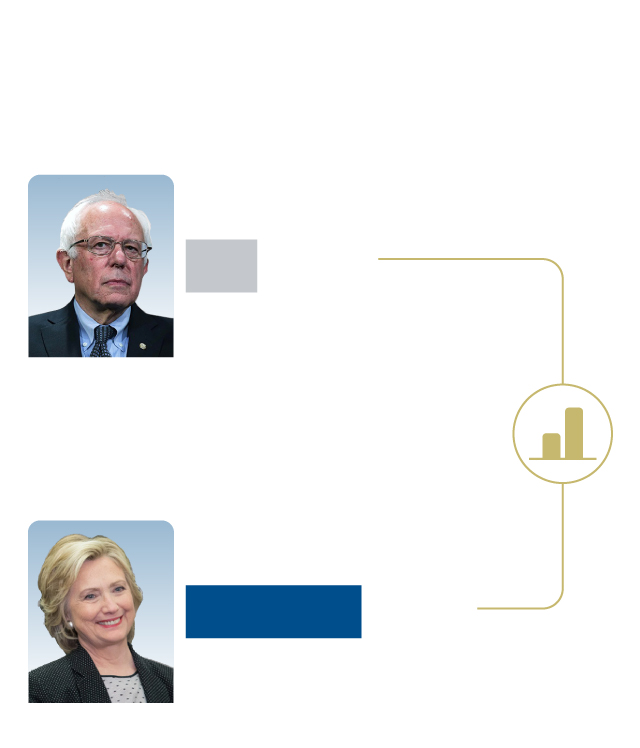 Hillary Clinton is the favored candidate among registered Democratic Party voters in Florida
Lead of 38 percentage points over Bernie Sanders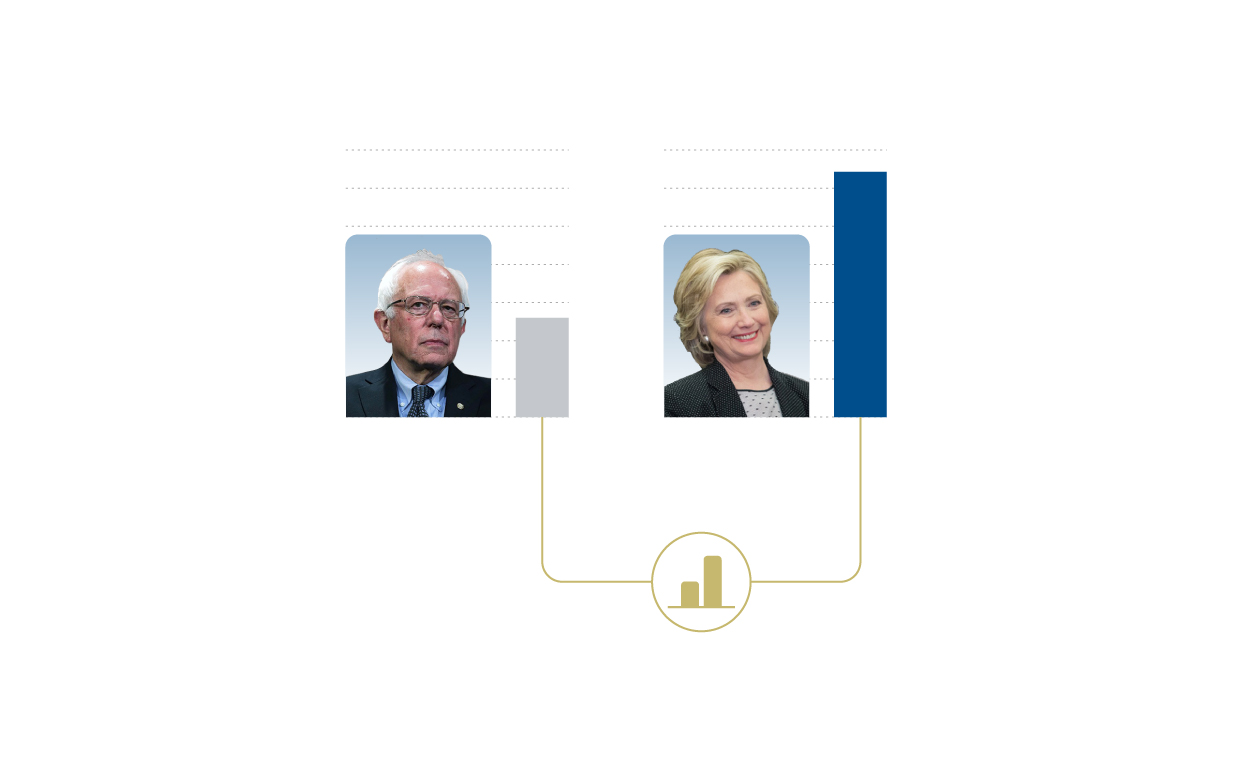 Hillary Clinton is the favored candidate among registered Democratic Party voters in Florida
Lead of 38 percentage points over Bernie Sanders
The former secretary of state leads with 64% of committed voters, compared to 26% for the Vermont senator. Only 10% remain undecided, which indicates that Sanders has an uphill task to catch Clinton before Tuesday.
Puntos clave en el debate demócrata en Univision
On Wednesday night Clinton and Sanders were pinned down over questions about immigration and appeared to go beyond their previously-held positions by advocating a sweeping rejection of deportation of virtually all undocumented immigrants - including all children and their familes - with an exception only for those accused of violent crimes and terrorism.
Both criticized the administration of President Barack Obama for presiding over a large increase in deportations, which has earned him the ire of pro-immigration activists who have dubbed him 'the deporter-in-chief.' However, Clinton and Sanders chose to ignore a federal Homeland Security Department memorandum that protects from deportation only those immigrants who arrived before Jan 1 2014 from deportation.
"Stop the raids, stop the round-ups, stop the deporting," said Clinton.
Wednesday debate could not have contrasted more with the Republican primary candidates, who have repeatedly sparred over who can appear toughest on border control enforcement and sending all undocumented immigrants back to their home countries, no matter how difficult it might be to round them all up.
"The questions in this #DemDebate illuminate a different America--one on margins, fearing deportation--than the ones asked in the GOP debate," noted New York Times columnist Nicholas Kristof on Twitter.
When Univision debate moderator Maria Elena Salinas challenged the two Democrats over alleged pandering to Hispanics - what the award-winning journalist called "His-pandering" - they both insisted on long-held pro-immigrant positions, while accusing each other of at times supporting policies that put them at odds with immigration advocates. Clinton highlighted Sanders opposition to immigration reform in 2007 over his concern for guest worker programs undermining wages and jobs for American workers. Sanders hit back accusing Clinton of failing to defend the plight of Central American child migrants escaping gang violence in 2014.
Not surprisingly, the two Democrats not surprisingly jumped at the chance to attack Republican Party front-runner, New York property tycoon Donald Trump, for his derogatory comments about Mexicans and his plan to build a wall along the U.S.-Mexico border. "It's a vulgar, absurd idea," said Sanders.
While declining to call him an outright racist, Sanders declared "The American people are never going to elect a president who insults Mexicans."
Deportation also provided the most emotional moment of the debate when an undocumented Guatemalan woman in the audience was invited to ask a question to the candidates about its impact on families. On the verge of breaking down, Lucía Quiej described how she was left to fend for her five children after their father was deported six years ago.
Clinton described her presence at the debate as "an incredible act of courage," and both candidates said they would do everything in their power, if elected, to protect immigrant families from being divided.
If there wasn't much daylight between the candidates over Trump and immigration, Clinton sought to distance herself from Sanders over U.S. foreign policy in Latin America, saying she did not agree with his past expressions of admiration for Cuba's revolutionary social achievements in health and education. Clinton accused Cuba of oppressing its people and silencing free speech. "That is not a revolution of values I ever want to see anywhere," she said, to loud cheers from the audience which included many Cuban American exiles.
Clinton: Los hermanos Castro son "autoritarios y dictadores"
Sanders, a self-described "democratic socialist" who says he is leading a political revolution in the United States, was questioned about previous remarks in 1985 when he praised Nicaragua's socialist president, Daniel Ortega, and Fidel Castro's transformation of society in Cuba. Sanders defended his views and criticized past U.S. interventions in Latin America, including efforts to overthrow left-wing governments in Nicaragua and Guatemala. "I don't believe it is the business of the United States government to be overthrowing small countries around the world," he said.
"The fact that Bernie Sanders could openly talk about normalizing relations with Cuba, and lifting the embargo, while in a room with many of Cuban descent is a true testament to how far the issue has come in just the last decade," Florida Democratic strategist, Steve Schale, wrote on Univision's debate blog.
El socialismo de Sanders, Cuba y Nicaragua
While both candidates spoke in favor of helping Puerto Rico out of its current economic crisis, Clinton had the strongest words of support, accusing Congress of abandoning the U.S. island territory. "Puerto Ricans are citizens of America and deserve to be treated as citizens ... to be given an opportunity to get back on their feet economically," she said.
Clinton has been facing an image problem during the current presidential race, struggling with low trustworthiness ratings. Sanders continues to lead Clinton in this category, according to the Univision poll conducted by the Democrat public opinion polling firm Bendixen & Amandi and the Republican research and polling firm The Tarrance Group.
Among Democrats interviewed, 46% state that the senator from Vermont is trustworthy, and only 39% have a likewise opinion of Clinton. Nevertheless, Hispanic voters in Florida believe Clinton is more electable and has more chances of becoming president than Sanders.
Among those interviewed, 65% state that the former Secretary of State has better personality and temperament for being president compared to 26% stating the same opinion about her rival.
Likewise, a 53% majority believe that Clinton is better suited for bringing about change in Washington, compared to 33% for Sanders. Florida Democrats show much more confidence in Clinton to manage the economy (62% to 29%), immigration challenges (64% to 20%), terrorism (68% to 19%) and healthcare (64% to 26%).