Hillary Clinton Walks With Us
I've known Secretary Hillary Clinton for 24 years and she has stood with hardworking immigrants and the Latino community for decades.
2016-06-03T19:23:57-04:00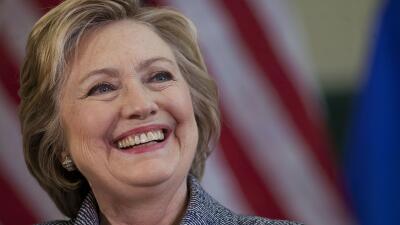 Hillary Clinton
Crédito: Getty Images
Dime con quién andas y te diré quién eres: tell me with whom you walk, and I'll tell you who you are.
With a week left until California's presidential primary, I spoke with college students in Los Angeles to stress: this election is personal. As the son of a mother who emigrated from Jalisco, Mexico and became a clerical worker and a father who never made it past the sixth grade but who built the roads we travel on in California, I want to know that our next President will fight for people like my parents.
This election is personal. Neither of my parents ever earned more than $20,000 in a year, but they worked hard to give my three sisters and me opportunities. I grew up in a tiny home which my father replaced by building a bigger one mostly by himself. They made it possible for me to be the first, but fortunately not the only one, in my family to attend a university.
Today, can a construction and clerical worker like my parents achieve the dream of buying a home, sending their kids to college and retiring in dignity? This election is personal.
For most families like my parents, even as you work, it's hard to get by. College tuition has risen some 30 percent since the 2008 Recession. Yet college is more important than ever to land a good job. This is especially personal for Latinas who make 55 cents for every dollar paid to white men.
Owning a home is out of reach for so many hardworking families, particularly immigrants. And for their children, without immigration reform, there's the unimaginable fear of not knowing whether their parents will make it home at all.
As a candidate for President, it's not enough to say you will support immigrants or the Latino community; we need the next President of the United States to be a leader who has stood with us -- because that means our President will have the experience to know how to fight for us.
I've known Secretary Hillary Clinton for 24 years and she has stood with hardworking immigrants and the Latino community for decades.
Forty-four years ago, in 1972, Secretary Clinton wasn't running for president but she worked in South Texas' Rio Grande Valley registering Latinos to vote.
Nineteen years ago, in 1997, Secretary Clinton wasn't running for president but as First Lady she led the fight for 8 million children to get access to health care, which especially helped Latino families.
Twelve years ago, in 2004, Secretary Clinton wasn't running for president but as a U.S. Senator she worked with Senator Ted Kennedy for comprehensive immigration reform (CIR) -- and three years later, in 2007, she voted for CIR.
Senator Bernie Sanders, who talks about immigration reform a lot now, did not vote for the CIR bill of 2007. Over my 24 years in Congress, Secretary Clinton was the one who was vocal, who met with the Latino community routinely, who took action.
In fact, I still have a photo in my office from her 1998 visit to Boyle Heights -- a vibrant neighborhood in my Los Angeles district with predominantly Latino families.
In Hillary Clinton, we have a leader who knows us, who is more qualified than any presidential candidate I have ever known in my lifetime, and who knows how to get things done.
She's a leader who will build schools, not walls. She's a leader who knows that while tuition-free college would be wonderful, debt-free college is achievable. And she's a leader who has vowed to begin in her first 100 days as President the critical work with all of us in Congress to pass immigration reform.
California is big and Hillary Clinton knows California very well from her years of working with us. Since announcing her candidacy for President, she has visited our state 13 times. On June 7, there's no doubt in my mind that Secretary Clinton should come out victorious.
I'm proud to have walked with Secretary Clinton in this campaign and for so many years before that. Now, together, we have a chance to make this election personal and walk with her as we go to the polls to vote on June 7. Let our vote be our voice!
Disclaimer: We selected this Op-Ed to be published in our opinion section as a contribution to public debate. The views and opinions expressed in this column are those of its author(s) and/or the organization(s) they represent and do not reflect the views or the editorial line of Univision Noticias.