Politics
Generational changes reshape the Cuban vote in Miami
Generational changes reshape the Cuban vote in Miami
7 Mar 2016 – 07:52 PM EST
¡Nuevo!
Presiona aquí para reaccionar
Reacciona
Comparte
Manifestantes en Café Versailles de Miami
Crédito: Joe Raedle/ Getty Images
It's noon in Miami and a bright spring sun falls on the window of the famous Cuban restaurant, Versailles, in Miami's Little Havana district where customers throng for strong Cuban 'cortadito' coffee.
Inside, the sound of Cuban exiles in loud conversation competes with the noise of dishes and cutlery.
"Sanders Is a communist, he says it himself," one exclaims, referring to Bernie Sanders, the Democratic Party's presidential candidate who calls himself a democratic socialist.
"But he must be doing something well that everyone wants to vote for him," replies another.
"Tell them to vote for Hillary Clinton, so they can get a two-for-one Clinton package," yells someone from the other side of the room.
That's the kind of political passion that distinguishes gatherings at the local diner, known as "El Capitolio" as the city grears up for Florida's March 15 presidential primary .
In previous times, for Republican politicians it used to be enough to sip a Cuban coffee at Versailles and talk tough about former Cuban President in order to win the Cuban American vote, which constitutes about 70% of Republican voters in Miami-Dade County. But lately, the political debate has shifted and now there's more discussion about Democratic Party candidates who are beginning to transform the electoral landscape of South Florida.
Dramatic change
Most U.S. Hispanics tend to vote Democratic, but in Miami the large Cuban American community, who make up 34% of the population, have long been known for their vehement support of the Republican Party, and their unwavering anti-Castro views.
Despite that, it should not be inferred that Cubans are uniformly wedded to entrenched political interests.
During the last decade the number of Cuban American voters who identify themselves as Democrats has doubled from 22% to 44%. And although most are still Republican (47%), the party saw a 20-point decrease in support. "It's a very dramatic change," said Jens Krogstadat at the Pew Research Center, a nonpartisan 'fact tank' in Washington.
"Previously Republicans Cubans were two thirds of that (Republican) population, and now they're not even half ... Democratic momentum is growing stronger and we've seen that Cuban votes can change the direction of elections," he added.
Indeed, due it was in part due to overwhelming Republican support among Cubans in Florida that President George W. Bush won his disputed 537-vote victory in the 2000 election against Democrat Al Gore.
"That was the breaking point in the Republican's Cuban fortress, showing a rejection of war policies and the growing economic crisis," said Krogstad.
Young people of Cuban origin are less motivated by the party of their parents and grandparents, and their political interests now appear more aligned with Democratic Party.
"Young people, and the Cubans who have arrived in the country since the '90s do not share the trauma of exiles who left the island because of political persecution," said Jorge Duany, an expert on Cuban migration at Florida International University.
The traditional conservatism of Cubans in the United States is deeply rooted in the anti-Castro sentiment that was born out of the 1959 revolution, the failed invasion of the Bay of Pigs in 1961 under President John F Kennedy - a Democrat - and staunch Republican support for the U.S. trade embargo against Cuba.
The emotional affiliation to Republicans is almost universal among political exiles aged over 80, representing 15.% of the exile population, but "is not an obligation for the younger Cubans," said Duany.
New refugees who arrive "more for economic than political reasons ... have a less belligerent view, and have more ties to the Cuban people," said Duany. They also support Obama's new policy of engagement with Cuba, including last year's restoration of diplomatic relations between the U.S. and Cuba.
Trump effect and "ethnic solidarity"
In the current Republican primary race, two Cuban Americans Senators - Marco Rubio of Florida and Ted Cruz of Texas - are vying to prevent Donald Trump from getting the Republican nomination.
competing . According to a national poll by Univision News last month, Rubio has 27% support among Latino Republicans versus 19% for Cruz.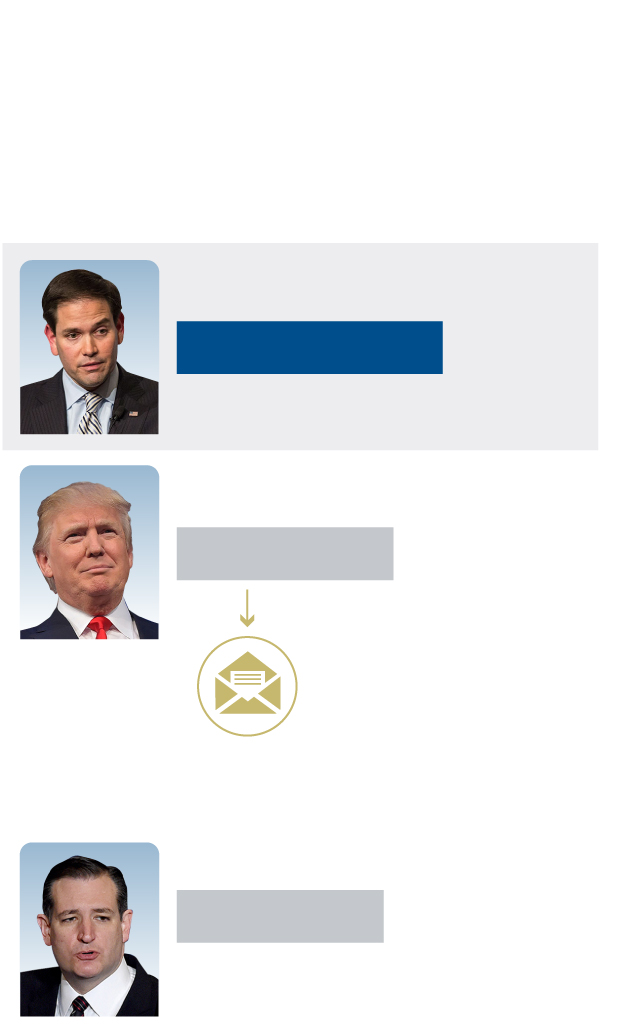 Marco Rubio es el candidato preferido entre los hispanos republicanos, por encima de Donald Trump y de Ted Cruz
Apoyo entre los votantes hispanos
Menos de un cuarto de los hispanos republicanos planea votar por Trump.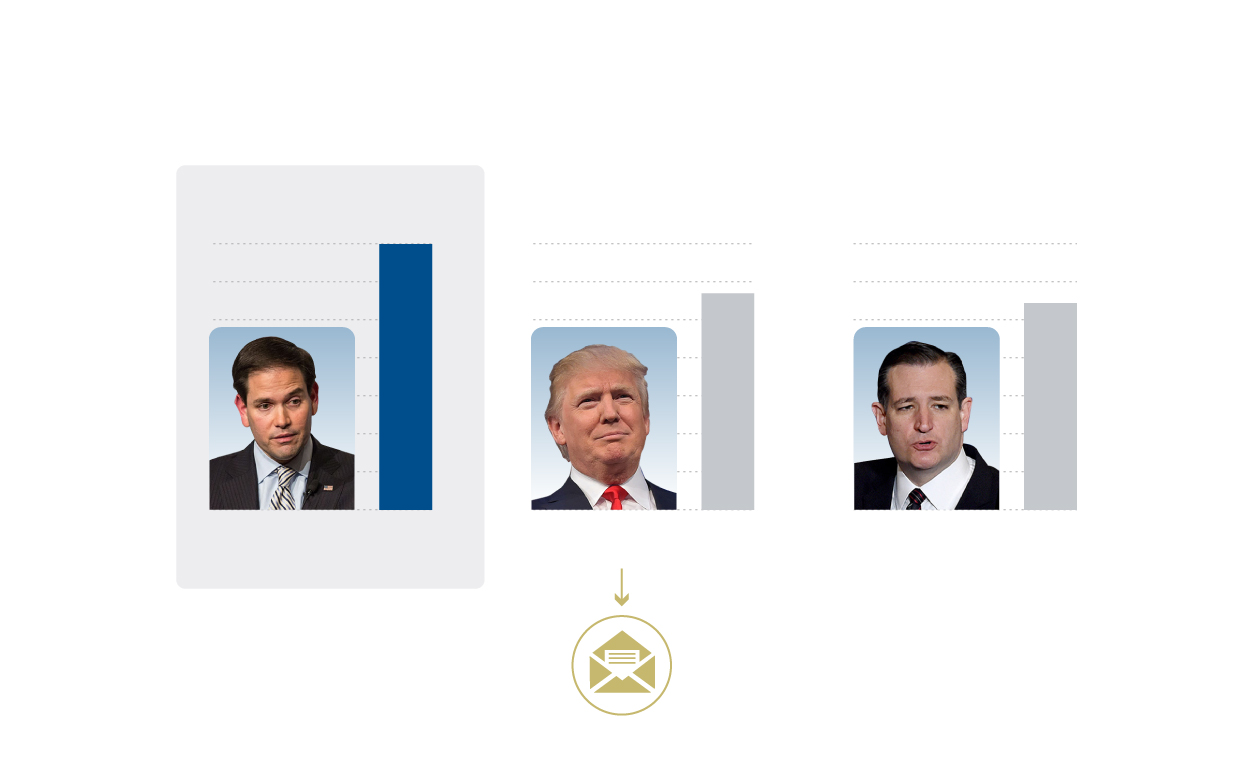 Marco Rubio es el candidato preferido entre los hispanos republicanos, por encima de Donald Trump y de Ted Cruz
Apoyo entre los votantes hispanos
Menos de un cuarto de los hispanos republicanos planea votar por Trump.
Rubio is hoping his strong support among Cuban Hispanics will give him the edge in the Florida primary, though he trails Trump in polls.
"I will vote for Rubio Marco, but if (Donald) if it's Trump (as Republican presidential nominee), my vote is for Hillary Clinton. I'm very clear about that," said Omar Garcia, a 64-year-old Cuban who has voted Republican for the last 40 years.
"The Cubans will vote for him because there is an ethnic solidarity there," said political analyst Eduardo Gamarra.
That, despite Rubio's questioning of some of the special immigration benefits enjoyed by Cubans, while he maintains a strong opposition to Obama's diplomatic thaw with the island.
"Not only Cubans, but in general many conservative Latinos in Miami would be proud that a Hispanic becomes president," added Gamarra.
For Gamarra, "the real tension" among Republican Cuban voters will be evident in the November general election, if Trump wins the Republican presidential nomination.
Although the Cuban migration experience is different from that of other Hispanics, "the ongoing controversy" surrounding the New York real estate mogul has divided the electorate between those "who want and don't want Trump," Gamarra said.
If the Reality TV star wins the Republican nomination, "Cuban voters will have to decide whether they will act in solidarity with the party, or make an extreme change to vote for the Democratic candidate, most likely Hillary Clinton," he said.
By 5 pm in the afternoon the loquacious table of MIami exiles at Versailles begins to dissolve.
"I'm leaving," announces one man, rising from the table, but not before grabbing a paper bag with leftovers of cake guava.
After hours of discussions about various issues they are able to reach agreement on one thing: never vote for a Democrat, despite the changing political trends in the city's exile community.
But increasingly they are being left alone at the center of a political gathering place that at times seems suspended in time.
RELACIONADOS:
Politics
•
News in English
•
United States
•