Latin America
It's no longer the world's most dangerous city, but how safe is Ciudad Juarez?
While most of residents now feel safe and trust the police, homicides are still a daily occurrence.
Unos agentes patrullan por el centro de Ciudad Juárez, a unos metros de la frontera con Estados Unidos, el pasado 8 de julio.
Crédito: Gabriela Arp
CIUDAD JUAREZ, Mexico - Olga Esparza sees her daughter Monica everywhere: in the young women on the bus, the girls walking down the street, and mothers holding their small children by the hand. Monica Janeth Alanis disappeared from this industrial, desert border city in March 2009, after finishing her business administration classes for the day at the local university. Her remains were found in 2012 in the outskirts of Ciudad Juarez. She was 18.
"Unfortunately, this is still happening," Esparza said. She has little confidence in the authorities; she gave up checking with the prosecutor about the investigation and has stopped pressing politicians to take action. Instead, she turns to other women like her. On Fridays, she meets with seven mothers who have also suffered the loss of their daughters. Together, they talk and cry.
Juarez, too, is trying to heal. Though the deaths continue, the city is beginning to see a change. Violence spiked between 2008 and 2010, when Juarez was the most violent city in the world. In 2010, there were more than 3,000 homicides. This year, there have been some 200 homicides so far, according to local media counts.
"Juarez is returning to a state of apparent normality," said Professor Howard Campbell, who studies violence, security and drug trafficking at the University of Texas in El Paso. Things have changed in just a few years.
In 2009, Campbell gave a speech in El Paso and asked how many of the 250 students knew someone killed in Juarez. Half raised their hands.
"The levels of homicides, deaths of women, and murders in public spaces have returned to the numbers prior to 2008. Despite suffering dramatic crimes on a regular basis, people are no longer surprised, and there is a sense that life goes on," he said.
At least now, people go out after dark.
A few years ago, the city looked like a desert at night. Now, the nightclubs near the border crossing revived the area with music from Tuesday through Saturday, and some burrito joints reopened to serve the local specialty: the barbecue burrito, filled with that shredded beef.
How safe do you feel in your neighborhood at night?

Ciudad Juarez is the border city in Mexico with the highest percentage of people who feel safe.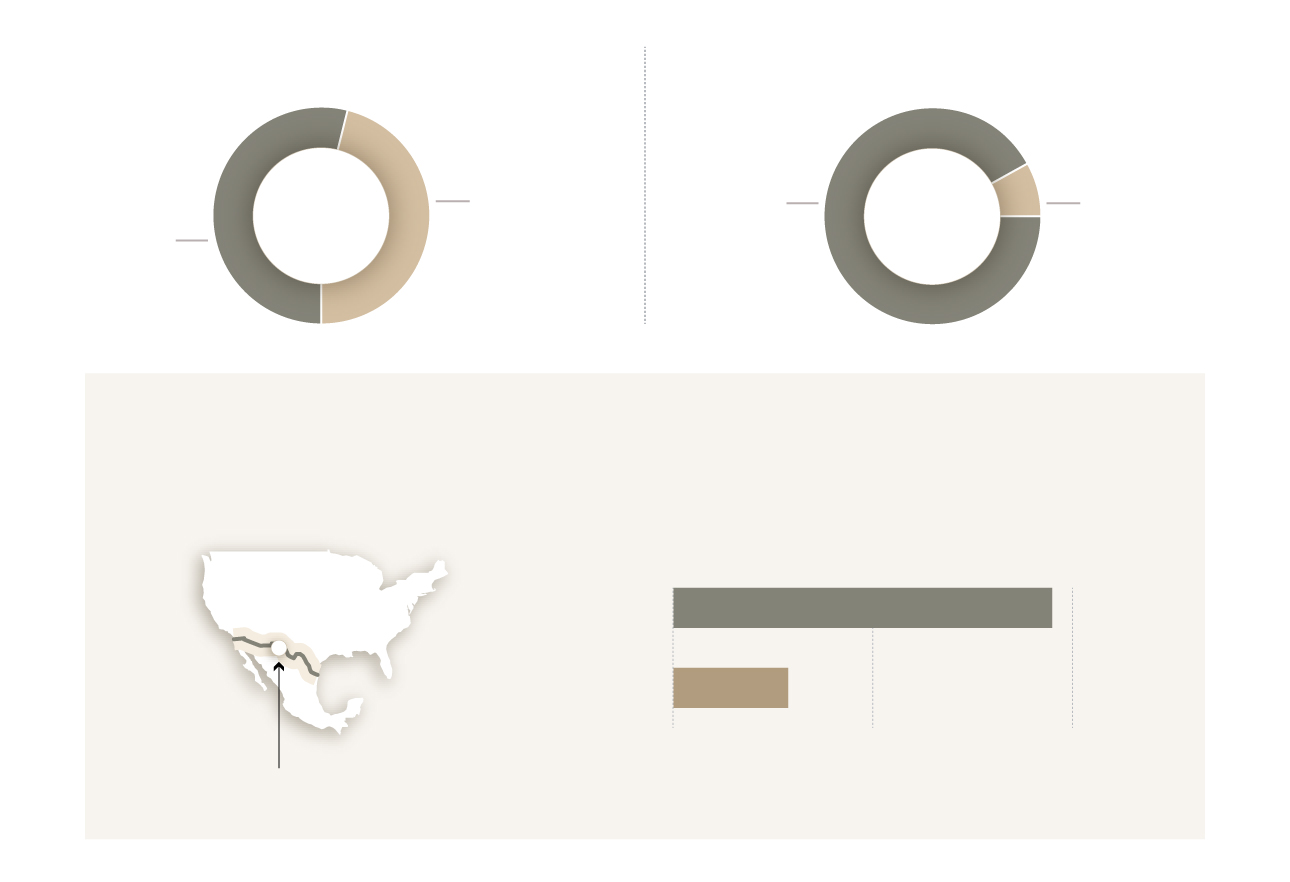 Ciudad Juarez is the border city in Mexico with the highest percentage of people who feel safe.
In the public sphere, optimism is palpable. Today, 76% of Juarez citizens say that there is no other Mexican city on the U.S.-Mexico border that feels more secure at night than Juarez, according to a survey by Univision, the Dallas Morning News, and Cronkite News of Arizona State University.
Between 2008 and 2010, the city of 1.3 million recorded more than 7,000 murders, according to official data. Around 230,000 Juarez residents left and some 5,000 businesses closed amid a global recession and a war between drug cartels.
Juarez became a key location in drug, human, and arms trafficking routes. The Sinaloa cartel, led by Joaquin "El Chapo" Guzman, disputed control of the area with the local Juarez cartel. President Felipe Calderon sent thousands of federal police and soldiers to the city, which ended up intensifying the war.
Today, Juarez is the Mexican border city where citizens trust police the most, according to the Univision survey. Fifty percent of Juarez residents trust the local, federal and military police, which contrasts with the distrust that the majority of people feel in Matamoros (92%), Nuevo Laredo (87%) and Ciudad Acuna (84%).
For Tony Payán, who heads the Mexico Institute and teaches on both sides of the border, optimism in Juarez has to do with the government response. "There has been a more visible police presence, and it was much more repressive, but it didn't matter to the people of Juarez, who wanted the insecurity problem to be resolved," he said.
Payán also cited campaigns to restore the city's image and improvements in the city center. There are fewer military and federal checkpoints, and more cars with the "We Are All Juarez" motto emblazoned on them.
For some like Campbell, a tense calm prevails because the two dueling cartels coexist in the area: the Sinaloa cartel, presumably with better institutional connections, which controls the drugs trafficked into the United States and the weakened Juarez cartel, which profits from drug sales in the city, which has more than 400,000 residents living in poverty.
Do you think there's progress in the fight against drug trafficking?

Ciudad Juarez is the city with the largest percentage of people think there's progress fighting drug trafficking.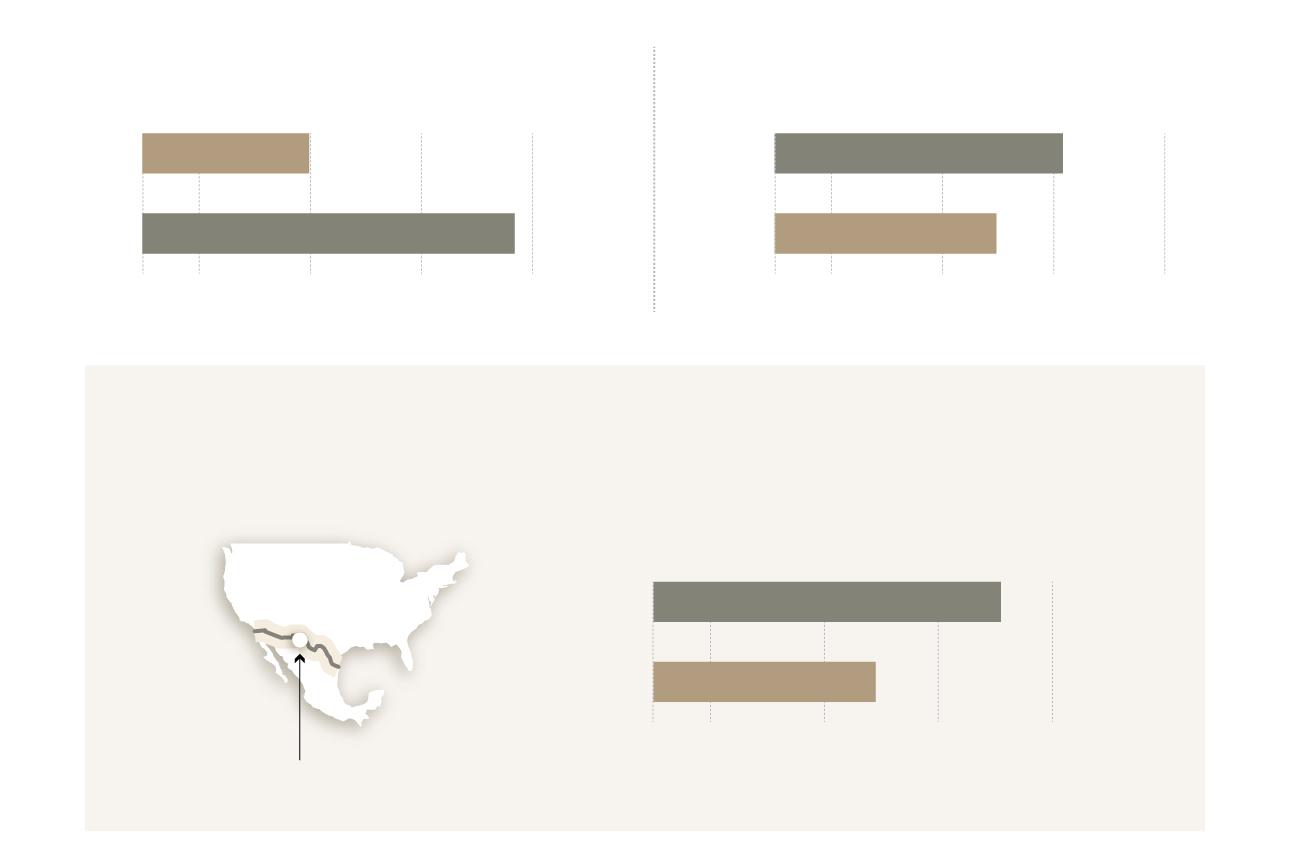 Ciudad Juarez is the only city on the Mexican side of the border where the majority think there's progress fighting drug trafficking.
For others, the decrease in violence is explained by the alleged complicity of the political powers with the cartels.
"Organized crime prevails again in Ciudad Juarez," said Patricia Galarza, a researcher at the Center for Human Rights of Paso Norte.
"In recent months, the forms of violence we've seen are many murders, men killed and gunned down as they were years ago. We sense that there are scores being settled," said Galarza.
According to the Colegio de la Frontera Norte, in 2015 Ciudad Juarez had the fifth-largest number of homicides of cities in Mexico. The number stood at 269, a figure that will be easily surpassed by the end of 2016. Juarez also ranked as second in sexual violence against minors and fourth in disappearances of women.
A few meters from the border fence that separates Juarez from El Paso, a man is waiting for the bus while reading the newspaper: "Murdered during graduation," the cover reads.
There are a dozen pink and black crosses scattered nearby. They're in honor of femicide victims, a reminder of young women found dead this spring in this impoverished and forgotten corner of Juarez. They're women like Olga Esparza's daughter.
So far in 2016, the bodies of 20 murdered women have appeared in the streets of Ciudad Juarez, according to the local organization Red Mesa de Mujeres.
"In recent years we have seen a decline in murders committed against women. However, these numbers are still higher than in the 1990s," said Itzel Gonzalez, who monitors femicides for Red Mesa de Mujeres .
Gonzalez said that in Ciudad Juarez, there's still a "breeding ground" for femicide. A strong macho culture endures, and there are scarce resources to implement new laws. Security forces lack coordination and lawlessness is an everyday occurrence. "Many men who commit violence against women are not arrested, and some cases are not even prosecuted," Gonzalez said.