Latinos
Hispanic Contribution to the Arts
When you think about it, it's pretty easy to see the incredible impact Hispanics have had in the arts, particularly recently.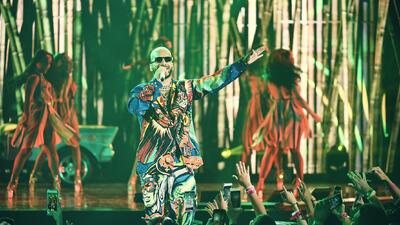 They've embraced being latinos, bilingües, y biculturales, and the U.S. has welcomed their contributions with open arms.
That's why at Se Habla USA we want to highlight Hispanics who have contributed to the arts in this country. Because whether it's directing plays and movies, painting, songwriting, dancing, or acting, these artists' contributions to the arts has not gone unnoticed.
Although we're only highlighting a few, vale la pena mencionar que there's so many Hispanics working hard every day to represent their heritage and foster a culture that seamlessly combines their Latin roots and American influence.
Let's talk about some staggering statistics first. In 2015, three Spanish-language tracks made it to the Billboard Hot 100. In 2016, four Spanish-language tracks made the cut. However, in 2017, 19 Spanish-language tracks made it on the list, including Luis Fonsi and Daddy Yankee's "Despacito." That's a very significant jump, though not surprising if you think about how popular songs like "Mi Gente" and "Despacito" are. So much so that Beyonce and Justin Bieber jumped in on the hype!
And that's not all, artists like Shakira, Maluma, Wisin, or Romeo Santos are highly popular in streaming platforms like Spotify or YouTube.
Latin music has been increasing in popularity in the U.S., and truthfully, it's hard to resist the beat of that music!
Lin-Manuel Miranda is a composer, lyricist, rapper, singer, actor, playwright, and producer, widely known for creating and starring in the Broadway musicals In the Heights and Hamilton. Lin-Manuel Miranda has done it all. Pero like, todo… and he's gotten awards for it too! Between a Pulitzer Prize, three Tony Awards, three Grammys, an Emmy, two Olivier Awards, and an Academy Award nomination, his name is everywhere! Including the Hollywood Walk of Fame as of 2018. Born in New York of mostly Puerto Rican descent y un poco de sangre mexicana, Lin-Manuel Miranda has been actively working to help Puerto Rico recover after Hurricane Maria's devastation. Not only is he talented, he's got a heart of gold.
A novelist, playwright, journalist, and Professor of Writing, Vanessa García has proudly dedicated her talent to her Cuban heritage and it shows.
Her most recent work, The Amparo Experience, tells the story of the family that created and distilled The Real Havana Club rum in Cuba. Her accurate and raw depiction of pre-revolutionary & revolutionary Cuba has moved audiences of all generations in more ways than one. Pero that's not all, Vanessa's debut novel, White Light, was named one of the Best Books of 2015 by NPR, Al Dia, Flavorwire, and it won an International Latino Book Award! And if you think we're done there, we're just getting started. Her written pieces have appeared in the LA Times, The Miami Herald, The Guardian, and The Washington Post. This literary mogul is slaying the game and making us all feel very proud of our Hispanic roots.
As Victoria Collado says "I was very lucky to grow up in a city like Miami where I was infused with my culture and proud to carry it with me everywhere I go" and believe us, it shows! This Cuban-American director brings her love for her Latina culture to every production. She recently directed the immersive theater piece, The Amparo Experience, written by Vanessa García. Oh, and they're also co-founders of the Abre Camino Collective! Ósea, hay que hacer un brindis por estas mujeres cubanas.
But wait, there's more. Victoria was the assistant director in John Leguizamo's Latin History for Morons on Broadway. Oh, and let's not forget about awards. Her production of El Burlador de Sevilla received numerous nominations and took home the grand prize for Outstanding Ensemble.
We can't wait to see what else is in store for this súper mujer latina.
Alejandra Duque Cifuentes
Can we get a (virtual) standing ovation for Alejandra Duque Cifuentes? Not only is Alejandra the first Latina Executive Director of Dance/NYC, she is also an activist, artist, educator, and a proud Colombian immigrant! In 2011 she founded Theatre That Transcends, which taught local, underserved communities how to express themselves and address community issues through the art of theater. She also actively works on measures to increase access, justice, equity, and inclusion within dance for disabled artists, immigrant artists, and artists of color in the five boroughs of NYC. Keep up the amazing work, Alejandra!
Guillermo del Toro, Alfonso Cuarón, and Alejandro González Iñárritu, better known as The Three Amigos, have taken the movie directing world by storm! And not just that, they've also made history while at it. Among the three of them, they've won the Academy Award for Best Director for five out of the last six years. And that's not all, in 2006 Alejandro González Iñárritu was the first Mexican to be nominated for Best Director but Alfonso Cuarón won in 2013, making him the first Mexican and Latin American to win Best Director. But don't worry, Alejandro González Iñárritu continued making history by being the first Mexican and Latin American to be nominated and to have won two times. He's also the third director in history to win consecutive Best Director Academy Awards! Talk about breaking all the barriers.
Since we're in the topic of movies, we can't help but talk about Pixar's Coco. If you haven't watched it, this movie is a celebration of the Mexican culture, especially as it pertains to Día de los Muertos. It is set in rural Mexico, and it perfectly captures the beauty of the Mexican culture. Plus, not to mention there's tons of Spanish words spoken by the characters! As the biggest blockbuster in Mexican history, this movie is sweet while accurately portraying the Mexican culture. And it also made history in the U.S by being the first film with a nine-figure budget to feature an all-Latino principal cast. Now that is what we're talking about!
John Leguizamo rose to fame with his role as Luigi in the action comedy Super Mario Bros, and things only got better from there!
However, it wasn't always that easy. When he was four years old, his family emigrated from Colombia to New York City, where he was one of the first Latino children in the neighborhood. But he credits that to helping him become funny in order avoid getting picked on. It's all about the silver lining. John Leguizamo has appeared in over 75 films, produced over 10 films, starred on Broadway in several productions, made over 12 television appearances, produced multiple television shows, and won several awards, incuding a Special Tony Award. Speaking of awards, in 2008 John Leguizamo received the Rita Moreno HOLA Award for Excellence from the Hispanic Organization of Latin Actors (HOLA). Amazing!
We can't talk about Hispanics without mentioning Colombian-born Sofia Vergara! Named the highest-paid TV actress, she's been breaking all barriers since migrating to the U.S. during her early 20's. She started her career with a Pepsi commercial that aired in Latin America, though she is now best known as Gloria Delgado-Pritchett from Modern Family. That role has earned her an Emmy Award for Outstanding Supporting Actress in a Comedy show nomination four years in a row!
And let's not forget her Hollywood Walk of Fame star, which she received in 2015. Sofia Vergara has made Americans love Colombians and truly, can you blame her?
These are just a few ways Hispanics are making outstanding contributions to the arts. As part of the Latinx community, we're so proud to see us being represented in such a positive light. And at Se Habla USA, we want to make sure we continue to highlight Latinos from coast to coast that are making a difference.
Let's continue celebrating our cultura juntos, como se debe. Stay tuned for more articles highlighting los tuyos y los nuestros. Y mientras tanto, find us on Instagram and Facebook!