Univision and ABC announce Democratic debate date and time, qualifying candidates and coverage
The debate will air on Thursday, September 12 (8:00-11:00 p.m. ET) from Texas Southern University. It Will Be Broadcast LIVE on the Univision and ABC Networks and Livestreamed on all Univision News and ABC Digital Platforms

29 Ago 2019 – 12:38 PM EDT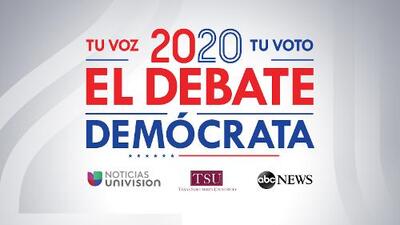 Univision and ABC today announced the Democratic Debate will air on Thursday, September 12 from 8:00 to 11:00 p.m. ET on the Univision and ABC TV networks. Univision is partnering with ABC News on the debate sanctioned by the Democratic National Committee at Texas Southern University's Health & PE Center in Houston.
The following 10 candidates have qualified to participate in the debate. The podium order will be announced today at 3:30 p.m. ET.
Former Vice President Joe Biden
New Jersey Sen. Cory Booker
South Bend, Ind., Mayor Pete Buttigieg
Former Housing and Urban Development Secretary Julián Castro
California Sen. Kamala Harris
Minnesota Sen. Amy Klobuchar
Former Texas Rep. Beto O'Rourke
Vermont Sen. Bernie Sanders
Massachusetts Sen. Elizabeth Warren
Univision Anchor Jorge Ramos will moderate the debate with ABC Chief Anchor George Stephanopoulos, World News Tonight Anchor and Managing Editor David Muir, and ABC News Correspondent Linsey Davis.
Hosted through a partnership between Univision News and ABC News, the two-night DNC-sanctioned debate will be broadcast LIVE in prime time on the Univision Network with simultaneous Spanish translation, and on the ABC Network in English, as well as livestreamed on all Univision News and ABC digital platforms. Univision's digital audiences can access the debate via UnivisionNoticias.com , Facebook.com/UnivisionNoticias , YouTube and @UniNoticias.
Special digital coverage by Univision News' expert political team will provide pre- and post-debate commentary and analysis through exclusive online content on UnivisionNoticias.com, including:
A liveblog featuring minute-by-minute reporting and discussion of the candidates' replies, proposals, and interaction.
Thorough fact-checking of the candidates' answers in real time throughout the debate.
Articles and videos on a variety of topics related to the Democratic primary election.
Profiles of the presidential candidates.
General post-debate overview and analysis in multiple formats.
During his distinguished broadcast journalism career spanning over 30 years, Jorge Ramos has interviewed many of the most influential political leaders in the U.S. and Latin America, including Barack Obama, Mitt Romney, George W. Bush, Bill Clinton, Hillary Clinton, Harry Reid, Newt Gingrich, John McCain, John Edwards, Al Gore, George Bush Sr., John Kerry, Fidel Castro, Hugo Chávez, and Felipe Calderón, among others. He has also moderated numerous debates and townhalls since 1996, most recently with figures such as President Obama, Mitt Romney, Hillary Clinton, and Bernie Sanders.
Follow the conversation about the third Democratic primary debate of the 2020 presidential election cycle via @UniNoticias and @UniPolitica on Twitter and Instagram, and comment along with others on Facebook.com/UnivisionNoticias and Facebook.com/UnivisionPolítica. You can also follow Jorge Ramos via @jorgeramosnews.
Members of the press wishing to obtain media credentials for the debate must fill out the request form at hhttps://theabcnewsdebate.com by Tuesday, Sept. 3, 2019.