Politics
Republicans in Florida ahead with older Hispanic voters - poll
A poll by Univision and the AARP shows the incumbent Democratic Party Senator Bill Nelson could be in trouble in November election.
Scott leads Democrat Bill Nelson, the incumbent senator, by 14 points – 52% to 38% - in the key over-50 Hispanic age group, with only six weeks to go before election day on November 6. The other 10% of voters are undecided.
In the race for the state governorship, former Republican congressman Ron DeSantis is also leading his Democratic Party rival, Tallahassee Mayor Andrew Gillum, but by only two points – 44% to 42% - well within the poll's margin of error, with 14% still undecided.
The poll reveals a sharp divide between South Florida's mostly Cuban American Hispanic voters and Puerto Rican voters in the Orlando area of Central Florida. For example, Scott has a wide lead of 25 points over Nelson in Miami, while Nelson leads by four points in Orlando. Meanwhile, DeSantis lead Gillum by 14 points in Miami, but trails the Democrat by 18 points in Orlando.
The over-50 age-group make up 45% of the Hispanic vote in Florida and about 8.5% of the state's registered voter population. Hispanics make up 19% of the Florida electorate with non-Latino whites being the dominant racial group with 64%.
"Given these numbers Scott is in a very strong position to challenge Nelson's 18-year incumbency as senator," said Anthony Williams, special projects director for Bendixen & Amandi International, who organized the poll.
The poll gives legitimacy to some of the concerns raised by Democrats and Hispanic groups that Nelson has not reached out enough to the Hispanic community. Scott has made several trips to Puerto Rico and began running ads in Spanish months ago, while Nelson has only just begun.
"I'm not surprised by Nelson's low numbers," said Phillip Arroyo, a Puerto Rican political analyst in Orlando. "His campaign started very late to reach out to Florida Hispanics. They need a full court press."
The only way for Nelson to win would be for him to outpoll Scott by a wide margin among younger voters. The could happen according to a poll published Tuesday by Quinnipiac University which showed the Democrat ahead 53% - 46% percent among likely voters of all age groups. That poll had Nelson leading Scott 61% - 39% among Hispanics and was taken two weeks after the Univision poll.
How excited would you say you are about voting in the November elections?
What is the most important issue personally for you and which will be the biggest factor in deciding your vote in November?
What do you think about Donald Trump?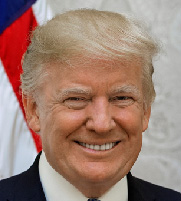 Donald Trump | President of the USA
Do you think things in this country are going in the right direction or do you think they are on the wrong track?
If the elections for governor next November took place today, who would you vote for?
FLORIDA. Candidate for Governor
FLORIDA. Candidate for Senator
What is your opinion of these candidates?
*Favorable includes those who answered very favorably and somewhat favorably. Unfavorable includes those who answered somewhat unfavorable and very unfavorable.
Do you think things in this country are going in the right direction or do you think they are on the wrong track?

In order to win statewide elections in Florida, Democrats have historically needed to have a massive double-digit lead with the Hispanic vote and at least get 80-85% of the African-American vote, as well as 35-40% of the Anglo vote, Williams pointed out. "If any of those are not in place for the Democrats it's problematic," he added.
In the past, Republicans dominated the Hispanic vote in Florida, but it has grown more diverse over the last two decades with the emergence of younger second generation Cuban Americans and the growth of the Puerto Rican vote and other non-Cuban Hispanics, such as Central Americans, Colombians and Venezuelans.
"We are now in a point where if you combine the Puerto Rican and the non-Cuban Hispanic vote, you put those two together and it's bigger than the Cuban vote in Florida," said Williams.
In 2012, Obama won 67% of the Hispanic vote in Florida in 2012, capturing more than 45% of the Cuban vote. Democrats have not won a statewide race in the midterm elections in the last decade, largely due to low turnout.
Even more troubling perhaps for Democrats, voter enthusiasm in the poll was high with 90% of those polled saying they were very or somewhat enthusiastic. However, 28% of those polled did not recognize or did not give an opinion about Gillum, and 24% had the same response regarding DeSantis, suggesting both candidates could grow their appeal if their campaigns can reach those uncommitted voters.
In another good sign for Scott, who is coming to the end of his second four-year term as governor, 46% of those polled said the country was headed in the right direction, while only 43% believed it was on the wrong track.
Those with Cuban heritage were more likely to think the country was headed in the right direction (63%) than those of Puerto Rican origin (31%).
The most important issues were jobs and the economy (24%), followed by immigration (13%), President Trump (11%) and healthcare (10%).
President Donald Trump, who has backed Scott and DeSantis, did not appear to be helping the Republicans cause, according to the poll. Only 47% had a favorable opinion of the president, slightly above the national average, while 50% viewed him unfavorably.
Trump was much more favorably viewed in Miami (55%) than Orlando (35%), while 63% of Hispanics in Orlando had an unfavorable view of the president.
Scott and DeSantis have lately distanced themselves from Trump over his handling of hurricane Maria in Puerto Rico, and the poll may discourage them from inviting Trump to campaign in the state for the remainder of the race. By comparison, Scott was far more popular, with 61% viewing him favorably and only 30% unfavorably. He was viewed especially favorably in Miami (65%), though he also had majority support in Orlando (55%). Scott was strongest among Cubans in Miami where he has a 70% favorable opinion, a reflection of Scott's strong support for the U.S. economic embargo of Cuba, as well as his opposition to President Barack Obama's restoration of diplomatic relations with Cuba in 2015.
Nelson lagged behind Scott, with 48% viewing him favorably and 32% unfavorably. Only 36% of Cubans polled had a favorable opinion of Nelson who supported Obama's political opening to Cuba.
The poll was conducted with 500 likely Hispanic voters between August 29 and September 9 in both English and Spanish, with a 4.4% margin of error.
AARP is the nation's largest nonprofit, nonpartisan organization dedicated to people 50 and older with more than 38 million members.