Politics
Questions raised about Melania's marriage history
A former lawyer for the Trump Organization adds to doubts about Melania Trump's immigration status, and how she earned U.S. residency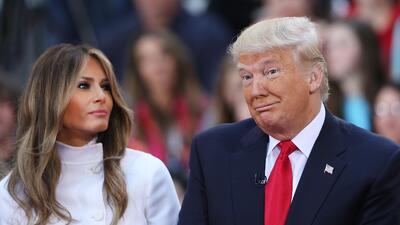 Melania y Donald Trump
Crédito: Getty
In an interview with Larry King Live in 2005 Melania Trump said that she had never been married before meeting Donald Trump.
But, Michael Wildes, an immigration attorney who worked for the Trump Organization, told Univision's investigative unit that she obtained a green card four years earlier in 2001, "based on marriage."
Melania and Donald Trump were not married until Jan. 22, 2005 at Bethesda-by-the Sea Episcopal Church in Palm Beach, Florida.
When asked to explain the marriage discrepancy, Wildes said he would seek clarification, presumably from the Trump Organization. He later sent an email saying "I didn't hear back, sorry."
As the Republican presidential nominee, Donald Trump has made immigration one of his main campaign issues. Trump has made constant references to deporting all undocumented immigrants and building a large wall along the border with Mexico to keep them out.
Declaración del exabogado de la Organización Trump Michael Wildes
Wildes said he acted "on behalf of Trump models" and handled legal work to obtian visas and green cards for Miss Universe when Trump owned the pageant. He told Univision that he had been authorized by the Trump Organization "to speak on the matters concerning Melania."
He said he could not comment on how the Melania Trump became a U.S. permanent resident.
"Ms. Trump received citizenship in 2006 and prior to that she had a green card based on marriage," he said in a recorded interview by phone. "Before that, she had a work visa and was in full compliance on her visas and never disrespected any of them. That has been made clear to me."
Abogado que trabajó en la Organización Trump habla sobre la controversia de Melania Trump
Wildes later clarified that legal privacy issues meant he could not discuss her status. "There are certain parts of the process that remain private. The immigration authorities don't discuss this nor should we," he said.
Wildes, a former federal prosecutor who said he is a Hillary Clinton supporter, added that as far as he is concerned the media inquiries into Melania Trump's immigration status are "moot and ridiculous."
Doubts arose after nude photos were published from an early modeling shoot suggesting that she had begun working in the United States earlier than previously known.
Her agent at the time, Paulo Zampolli, told Univision that she had obtained an H-1B work visa prior to starting work for his modelling agency, Metropolitan Models. He added that work visas were not hard to obtain in those days and that she benefited from having a strong portfolio.
Zampolli was not just Melania Trump's agent. He famously introduced her to her future husband Donald Trump in 1998 at a party in New York and later went to work with Trump on real estate.
Asked how she later obtained permanent residency, Zampolli said: "I have no idea. How would I know?"
Trump's campaign declined to answers request for comment when Univision sent request by phone and email.