Politics
Debt paid? Former Florida felons seek restoration of right to vote
A Florida ballot amendment in November could restore voting rights to an estimated 1.4 million released felons, including at least 180,000 Hispanics, potentially altering the political balance in the nation's largest swing state. Meet some of the felons who have turned their lives around and say they have paid their debt to society.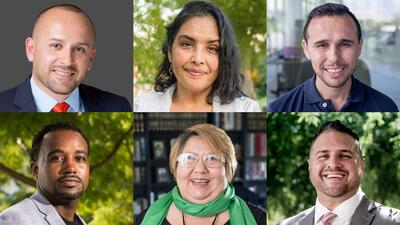 Left to right, (top row): Bryan Russi, Caridad Galan, Angel Sanchez, (bottom row) David Ayala, Yraida Guanipa, and Ignacio Calderin.
Aged 36, Ángel Sánchez is a top student at the University of Miami law school, and last month spoke at Harvard University's Department of Philosophy. In his spare time, he visits public schools and prisons to give motivational talks about making the right life decisions.
Yet, for all his academic prowess and sense of community service there is one civic duty Sanchez cannot perform. As a convicted felon he cannot vote under current Florida law.
That's because when he was 16 he was sentenced to 30 years for attempted murder with a firearm. His life has completely turned around since his early years as a 'super predator' teenager in a Miami street gang.
But Florida law makes it extraordinarily difficult for felons to have their civil rights restored, requiring them to wait up to seven years after they have done their time before they can apply to the Governor for clemency.
Sánchez hopes that will change November 6 when Florida voters go to the polls. Besides electing their members of Congress and other state and local officials, voters will have the chance to rewrite the state constitution by approving Amendment Four which would automatically allow released felons who have completed probation to vote, except for murderers and sex offenders.
The amendment needs the support of 60% of voters to pass and recent polls have shown support topping 70%.
"There is no other issue on the ballot in November that matters more," says Dave Lawrence, a leading national advocate for children and former publisher of The Miami Herald. "Surely, we are a better people than this," he told a recent Miami event on Amendment Four.
Florida's constitution has one of the most restrictive voting bans in the nation, a hangover from its post-Civil War constitution, drafted in 1865, which prohibited blacks and felons from voting. It was revised in 1868 to allow all males to vote, but the ban on felons was kept in place. Due to a high incarceration rate for blacks, 21% of the state's voting-age African Americans cannot vote. It is estimated that the ban also affects more than 10% of eligible Hispanic voters.
Univision interviewed half a dozen Hispanic felons who each spent more than a decade in jail but have since led exemplary lives.
AMENDMENT FOUR - THE FACTS
1./ Currently, people with prior felonies can only regain the right to vote in Florida by applying to a state clemency board.
2./ Florida is estimated to have 1,686,318 persons—10.43 percent of the voting age population—disenfranchised due to felonies
3./ The amendment automatically restores the voting rights of Floridians with felony convictions after completing their sentence, except for murder or sexual offenses.

"We know what the historic intent is. It was designed to restrain the newly enfranchised slaves," says Desmond Meade, a formerly homeless felon who is president of the Florida Rights Restoration Coalition (FRRC) which has raised $12 million to promote the ballot amendment. "This is the continuation of the civil rights movement," he added, pointing out that if passed, the amendment would be the largest addition of new potential voters since Congress reduced the voting age from 21 to 18 in 1971.
Only three states - Florida, Kentucky and Iowa - block felons from regaining their right to vote after they complete their sentence. In fact, Florida's 1.6 million account for about 25% of the six million disenfranchised felons in the entire nation. (Under Amendment Four only 1.4 million felons would regain their rights due to the exclusion for murderers and sex offenders.)
There are currently 100,000 people in prison in Florida, and another 115,000 offenders on some type of community supervision, according to the Florida Department of Corrections.
Many countries allow inmates to vote, including Canada, and some nations in Europe and Latin America.

Florida's clemency system is so arbitrary it has been deemed unfair by the state's Supreme Court and ridiculed nationally by late night TV comedians such as John Oliver.
The current governor, Republican Rick Scott, has restored voting rights to fewer than 3,000 people during his eight years in office. His predecessor, Charlie Crist, a republican who has since switched parties, restored the voting rights of some 150,000 felons in just four years.
"The state imposes what for all practical purposes is a lifetime voting ban for people with past felony convictions," says Myrna Pérez, director of the Voting Rights & Elections Project at the Brennan Center for Justice at New York University. Besides not being able to vote, Florida's Constitution, denies felons the right to serve on a jury, possess a firearm or hold public office until civil rights have been restored.
Florida's government has faced multiple lawsuits regarding voting rights issues. One group of felons sued that the clemency system violated their constitutional right to vote. A district court judge sided with the felons in April, criticizing Scott for the arbitrary nature of the state's periodic clemency hearings.
"In Florida, elected, partisan officials have extraordinary authority to grant or withhold the right to vote from hundreds of thousands of people without any constraints, guidelines, or standards," District Court Judge Mark Walker wrote in an April ruling ordering Scott to create a fairer process to restore felons' voting rights. An appeals court blocked Walker's ruling and the court battle remains unresolved.
If the amendment passes in November, the lawsuit would become redundant. "It would be a happy day to see our case made moot," said Jon Sherman, senior counsel at the Fair Elections Legal Network and lead counsel on the lawsuit. He pointed out that some more minor felonies can involve no jail time, including theft, fraud and some driving offences, yet voting rights are still taken away.
Applicants for clemency must attend a hearing before the Governor to answer a series of personal questions involving their family, drinking habits, and job history. Any legal infraction, as trivial as a parking ticket, can result in an application being rejected.
"When you see people groveling at their feet, it's humiliating," said Meade. "Their questions are so invasive. It really cuts deep."
Conservative groups have been relatively quiet on the amendment so far. In fact, normally solid Republican Party backers such as the Christian Coalition of America and the billionaire Koch brothers, have backed it.
Scott is a strong defender of victims of crime and their families and has fought the legal efforts to remove the Governor's legal authority over the clemency process. "If you're a felon, I believe you should take the time, so we can see that you have re-integrated and done the right thing to society before you get your rights back," he said earlier this year.
A non-profit organization called Floridians For A Sensible Voting Rights Policy opposes the Amendment arguing that "the value of every legal vote is diluted and diminished by every illegal vote cast by felons, non-citizens, dead people, imposters, identity thieves, and people voting more than once.''
Ashley Moody, the Republican candidate for state Attorney General in November, also opposes the amendment. "I cannot in good conscience support Amendment 4 as it will allow violent offenders the automatic restoration of rights without a case-by-case determination of when restoration is appropriate," she said in May. However, she added that she was willing to consider "a less cumbersome procedure."

In Florida, where elections are often won by small margins, restoring voting rights could make a big difference in future races. President George W Bush famously won Florida in 2000 by 537 votes. The last two elections for governor were both decided by only a 60,000-vote margin in a state with 13 million registered voters.
According to a 2016 analysis that matched clemency data with voter files in 2012, 59% of Floridians with felony convictions who had their voting rights restored were registered as Democrats, 18 percent registered as Republicans and 23 percent as independent or third party.
"I lost a right I never had"

Sánchez points out that he was just a child when he fell afoul of the law. "There is something ironic about the fact that I lost the right to vote before the age of even acquiring the right. I lost a right I never had."
In an out of juvenile detention since the age of 12, he was eventually tried as an adult aged 16, after he was arrested over a gang shooting. In prison he discovered reading and a passion for the law, obtained his GED and began online paralegal studies. In the process he discovered errors in his legal case and was able to get his sentence cut in half, eventually released after 12 years and four months.
"That's how I discovered my passion for the law," he said.
Since his release he has overcome numerous obstacles to achieve stunning academic heights. He recently became eligible to apply for clemency but has not been able to find all the court records of his cases that are required to file an application.
He began by coming top of his class at Valencia College in Orlando with a degree in paralegal studies with a 4.0 grade point average, all while living at a Salvation Army homeless shelter. At the University of Central Florida, where he also graduated with a 4.0 average. taking two degrees in legal studies and political science. He was awarded UCF's Order of Pegasus, the highest honor given to its graduates and invited to give his 2014 graduating class Commencement Address.
His thesis at UCF examined the impact of felony disenfranchisement on Hispanics in Florida, which found that there are nearly 180,000 Hispanic felons disenfranchised in Florida. He also found that data on Hispanics in the criminal justice system, was highly inaccurate, and undercounted Hispanics who are not considered a separate race. Florida's Department of Corrections "systematically undercounts Hispanics (and overcounts Whites) by nearly 8 percent—i.e., there are over 2.5 times more Hispanics in FDOC data than actually reported by FDOC," he wrote.
He has more than earned his voting rights back, his advocates say. "Ángel Sánchez is the best example I know of a life completely turned around," said Valencia College president Sandy Shugart. "His character, his spirit of service, his work ethic, his regard for others, his devotion to family, and his capacity to contribute to society have all been restored. Of course, his right to vote should also be restored."
"He is a gem," added Cynthia Schmidt, director of the Center for Law and Policy at UCF. "I'm so proud of him," she added, recalling how he was a member of her Moot Court team competing with other colleges in simulated trial proceedings. He placed 5th at the national finals in 2016. "He's an amazingly talented orator. It was a sight to watch him smoking the Ivy League kids."
Sánchez says there are several overlooked reasons to allow felons to vote, that make sense from both a public safety and financial sense. Studies show that individuals who have been restored their voting eligibility are almost two-thirds less likely to commit crimes. And he points out, if restoring voting rights can reduce recidivism that would also reduce prison costs and potentially result in more felons becoming useful tax paying members of society.
"It's not about being tough on crime or soft on crime. It's about being smart on crime," said Sánchez. "Is this a smart policy to keep disenfranchisement and voting eligibility away from individuals that are reintegrated, or is it not smart to do that?"