Politics
Adriano Espaillat on course to be first Dominican in Congress
The "country boy from Santiago" claimed victory Tuesday in the bitter primary race to succeed Congressman Charles Rangel
29 Jun 2016 – 06:19 PM EDT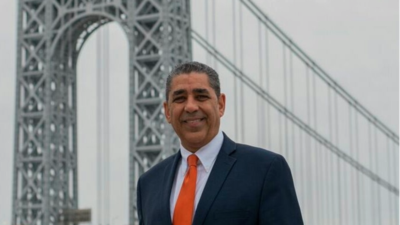 New York State Senator Adriano Espaillat
Crédito: Facebook / Adriano Espaillat Rodríguez
New York State Senator Adriano Espaillat is set to make history. With his supposed victory last night in the Democratic primary race to succeed Congressman Charles B. Rangel, Espaillat is a big step closer to becoming the first Dominican-born politician to be elected to the U.S. House of Representatives.
After a bitter race, the 61-year-old Espaillat -- whose campaign slogan is Es pa'llá que vamos ('That's where we're going') -- finished ahead of his closest opponent, Harlem Assemblyman Keith Wright, by more than 1,000 votes. Wright has yet to concede, claiming "evidence of voter suppression."
But if Espaillat wins, as expected, it's almost certain he'll also sweep the general election this November. That would mark a huge shift in Upper Manhattan politics, where African Americans have long held power. Rangel held his seat for 45 years.
Espaillat is a descendant of Ulises Francisco Espaillat, the President of the Dominican Republic in 1876. Adriano Espaillat left the Dominican Republic with a tourist visa at age 9, arriving to his maternal grandparents' home in New York City.
In 1974 he completed his studies at Harlem's Bishop Dubois High School and enrolled at the University of Queens. He became involved with various social causes and was recognized in the community as an activist in training.
In 1978 he earned a degree in Political Science and legalized his immigration status. He worked to reduce incarceration costs and with victims of violent crimes. In 1996 he became the first Dominican elected as a state senator from New York, representing residents of District 31, which includes neighborhoods in Manhattan and the Bronx.
He's been an outspoken voice on immigration, tenant rights and same-sex marriage laws.
Espaillat said yesterday that, if elected to Congress, he plans to "fight for funding for education, employment and housing … [and] stop the gentrification of local businesses."