A call to action: we must organize and mobilize to reverse ugly immigration policies
Whatever the administration throws at us, our allies in the legal community are ready to defend our families in court. We will fight again.
2017-03-03T09:53:26-05:00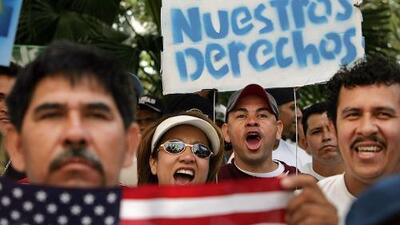 Almost 11 million undocumented immigrants live in the United States
Crédito: Getty Images
The worry can be seen in the eyes of our families, coworkers, friends and others who seek our help. The fear is compounded by the randomness and speed with which people's lives are changing under the new Trump administration.
If a Virginia father had not taken his son to school, if a "DACA" recipient had not been at his father's Seattle home when agents from Immigration and Custom Enforcement (ICE) came to arrest his father, if the mother had not kept a routine appointment at the ICE office in Phoenix, they would still be with their families today.
What do we do now? Latino and immigrant communities are asking.
The answer comes from our communities' equal speed to unite to protect the constitutional, civil and human rights of those swept up in Trump's military-style deportation campaign. From cities, where the vocal support of nonimmigrants are growing louder, to the halls of Congress, the battle to resist has been engaged.
Still, the work to protect our families and to shame the politicians into treating us with dignity and respect is great, so we continue to ask concerned Latinos, citizens and noncitizen alike, to get more involved.
The courage of a few already has produced important results.
At President Donald Trump's first joint session of Congress, the U.S. citizen son and daughter of the deported Phoenix mother, Guadalupe (Lupe) Garcia de Rayos, sat in the House gallery as the special guests of Arizona Democratic Reps. Raul Grijalva and Ruben Gallego.
Attending the presidential speech was one way to stand up to an administration that has shamefully separated their family to score political points. Even Trump is hard-pressed to explain how their mother, who lived in the U.S. for more than two decades and regularly checked in with ICE, poses a national security threat.
In Colorado, Jeanette Vizguerra, 45, was schedule to meet with an immigration office, and instinctively decided to instead seek sanctuary at First Unitarian church, where she remains. Her intuition was sharpened by her involvement in her community. Five years ago, she co-founded the Denver Sanctuary Coalition. Her oldest of four children is not a citizen but is lawfully present in the U.S. under the Deferred Action for Childhood Arrivals (DACA) program.
Vizguerra's spirits are lifted by reminding herself and reporters who call regularly, that for 20 years, she has paid taxes to our government, something Trump cannot claim. Immigrant rights advocates from across the country stay in touch with her, and recently, hundreds of supporters, including members of Mi Familia Vota, rallied at the church for her.
We have fought this fight before, so we have a good idea of what we are up against.
Arizona's Sheriff Arpaio, who organized the raids that snared Lupe years ago, was a mean-spirited anti-immigrant official who was taken to court several times for violating the Constitution. He was defeated in his re-election bid last November by Paul Penzone, a former police sergeant, who vowed that, "Arizona stands for something greater, no matter where we come from or what we look like, we are all entitled to respect."
The architect of the Trump deportation plan drew up similar strategies in states like Arizona, Alabama, Georgia, but the state laws were gutted by the federal courts after running into constitutional issues.
We already have seen Trump's first try at a Muslim ban get blocked by the courts. Whatever the administration throws at us, our allies in the legal community are ready to defend our families in court. We will fight again.
In the meantime, we urge Latino immigrants to be brave, know their rights and be prepared. They are not alone and as our community continues organizing and defending their rights, we can and we will win the political battles.
Under Trump's orders, any undocumented immigrant, even those with DACA, are considered a "priority" for deportation. One-third of those arrested recently had no criminal record, or very minor, immigration-related charges.
Trump also denies immigrants due process, bypasses immigration courts and expedites deportation. The administration is ignoring immigrants' roots here and their contributions, as well as the citizen children who who will be orphaned.
We will turn our anger and fear into action. If an ICE agent comes to the door without a warrant, we will resist. We will not let them enter. We will use our right to remain silent. We advise those in our community who are confronted by ICE agents not to sign any papers without talking to an attorney, to record everything on paper, video, or audio, including the agent's badge number. We all have constitutional rights, regardless of our status.
We also recommend that every family at risk create an emergency plan in the event of a detention, just as if a hurricane were approaching. They should share phone numbers for hotlines that can provide help and legal assistance, and arrange for friends to retrieve children at school.
Mostly, for all lawful permanent residents, we strongly urge them to become a citizen so they can vote in 2018.
Voters have the power to elect Congressional leaders that will block the needless separation of families; to stop the madness of the new deportation regime. The House and Senate must stand up to Trump and pass comprehensive immigration reform. We also must hold all elected officials accountable from the school boards to city councils and state legislatures, to demand protections for our community.
It will take all of the courage, power and might of our communities to organize and mobilize. But we can do it.