Politics
Meet the 15 immigration hawks defining Trump's agenda
President Donald Trump clearly holds the starring role in the current crackdown against immigrants, but these people are pushing the same agenda behind-the-scenes.
18 Jul 2017 – 04:20 PM EDT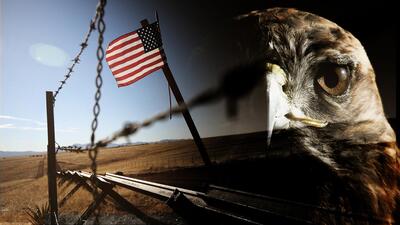 Trump and other Republican leaders see immigration as a national security issue.
Crédito: Univision/David Maris
They've sought to make themselves - and their policies - known for years, but President Donald Trump has helped these immigration hawks set the agenda in unprecedented fashion.
Univision News has compiled a list of 15 protagonists helping to push immigration policies to the right during the first six months of Trump's presidency. Some were once marginal figures who have gained influence since Trump burst onto the political scene.
The list includes political leaders in Washington and in states that have championed initiatives against immigrants, as well as some behind-the-scenes activists and lobbyists.
Government
Steve Bannon
White House Chief Strategist
For Trump's chief strategist Steve Bannon, immigration is a key topic. Prior to joining Trump's team, Bannon led the far right, anti-immigrant site Breitbart News. In the White House Bannon has promoted a nationalist agenda, which would establish limits on trade and immigration. He considers himself the guardian of Trump's most radical campaign promises, and hangs a whiteboard in his West Wing office that displays a list of Trump's promises both fulfilled and pending. He has said that it's "scary" that so many people in the U.S. were born abroad. "When you look and there's 61 million, 20 percent of the country, is immigrants—is that not a massive problem?" One of his reference books is "Le Camp des Saints," a racist allegory of his fight against immigration.
Stephen Miller
Trump advisor
A young Stephen Miller adopted nationalist ideas in reaction to the liberal and diverse environment of his Santa Monica, California, high school. As a student at Duke University he became a well-known conservative figure and later worked for Jeff Sessions, then a senator known for his right-wing positions on immigration issues. He joined Trump's campaign in early 2016, seduced by the mogul's rhetoric and nationalism. Since then he has written Trump's speeches and worked on laws. He was the chief coordinator of the first executive order that prohibited immigration from several Muslim countries and now works with Senators Cotton and Perdue (both on this list) for approval of the RAISE Act, a law that would limit legal immigration.
Jeff Sessions
Attorney General
Sessions, a senator from Alabama between 1997 and 2017, was one of the Republican immigration hawks who led opposition to comprehensive immigration reform. For a long time, he was the only senator who backed Trump, with whom he shares the view that immigration is a threat. After frequent appearances with Trump during the campaign, Trump named Sessions Attorney General, a position from which he has made immigration a top priority for the Justice Department. This has alarmed immigration activists, who point out that immigration issues traditionally fell under the responsibility of the Department of Homeland Security. Sessions has threatened to withdraw federal aid to sanctuary cities, but his attempts have thus far been temporarily blocked by federal courts over questions over their constitutionality.
Congress
Tom Cotton
Arkansas senator
At just 40, Arkansas Republican junior senator Tom Cotton is seen as one of the party's rising stars. While a congressman, Politico called him the face of the "'hell no' caucus," a group of extremely ideological lawmakers who opposed any action on issues like gun control or the legalization of undocumented immigrants. In the Trump era, he is one of the president's strongest allies in Congress. He is sponsoring the RAISE Act together with Senator David Perdue (R-Ga.), which would reduce legal immigration to the United States by 50 percent by 2027.
David Perdue
Georgia senator
Senator Perdue was elected in 2014 after a long career in the business world. He co-sponsors the RAISE Act with Tom Cotton, which seeks to drastically limit legal immigration. He has used demagoguery against the undocumented, warning that they represent a "national security crisis." Speaking to Breitbart he said that "the reality is violent illegal immigrants are repeatedly entering our country and posing a dangerous risk to our families and communities."
Steve King
Iowa congressman
Steve King is one of 13 members of the House of Representatives subcommittee on Immigration and Border Security. A congressman since 2003, he opposed comprehensive immigration reform efforts during the mandates of George W. Bush and Barack Obama. He is an enthusiastic supporter of Trump and his proposals, but has said that he feels "disappointed" with Trump for not having eliminated DACA. He said the border wall could be financed by suppressing the food stamp program for the poor. King has a long history of statements condemned as racist. In May he tweeted that the country's civilization could not be restored with "somebody else's babies." In 2013, he depicted immigrant children as drug runners, saying "For everyone who's a valedictorian, there's another 100 out there that weigh 130 pounds, and they've got calves the size of cantaloupes because they're hauling 75 pounds of marijuana across the desert."
Raúl Labrador
Idaho congressman
Last month, Idaho's Republican congressman was named chairman of the House subcommittee on Immigration and Border Security. He has supported President Trump's hard-line immigration policy, after advising Trump during the transition period. He was among a group of eight members in the House of Representatives who supported a path to legalization for undocumented immigrants in 2013, but he withdrew because of concerns that the bill would not sufficiently protect taxpayers from footing the healthcare bill of undocumented immigrants. Born in Puerto Rico, he told Univision News that his origin does not affect his way of looking at public affairs: "I'm not a 'Puerto Rican congressman.' Rather, I'm a congressman, who happens to be Puerto Rican. And the people of Idaho have backed me."
Bob Goodlatte
Virginia congressman
Goodlatte, chair of the House Judiciary Committee, is pushing an agenda of tougher laws against undocumented immigration. He is a sponsor of Kate's Law, which increases the penalty against immigrants crossing the border illegally after being deported; and another law aimed at cutting the flow of federal funds to "sanctuary cities" that do not collaborate with federal authorities in controlling illegal immigration. The two laws were passed last month in the House but they do not have enough support in the Senate.
State leaders
Greg Abbott
Texas Governor
The Republican Texas governor has pushed SB4, a law that forces local leaders to eliminate sanctuary policies, cooperate with federal immigration agents and allow police officers and sheriffs to ask about anyone's immigration status during routine detentions. The measure is at the heart of the national debate on the rights of immigrants when it comes to responding to police. Abbott is a strong supporter of Trump and his vision of immigration as a security issue. Before signing SB4, Abbott won in 2014 with strong support among Hispanic voters, thanks in part to a television ad in which his Latina-speaking mother-in-law spoke Spanish.
Ken Paxton
Texas Attorney General
Paxton thinks Trump is not tough enough on immigration. The Texas Attorney General is leading an initiative to end the Deferred Action for Childhood Arrivals (DACA) program, which protects undocumented immigrants who came to the U.S. as minors. Last month he sent a letter signed by nine Republican state attorneys general and the governor of Idaho, in which they threatened to sue in court over the immigration program that Barack Obama created in 2012.
Dan Patrick
Texas Lieutenant Governor
Dan Patrick rose from the radio waves to Texas politics based on his diatribes against undocumented immigrants. He said, among other things, that illegal immigration is an invasion and that immigrants bring "Third World diseases." Policy watchers in Texas believe Abbott has adopted the tough "show me your papers" SB4 style law to prevent Patrick from challenging him in Republican primaries for governor in 2018.
Kris Kobach
Kansas Secretary of State
Kansas Secretary of State Kris Kobach emerged onto the national scene in May when Trump appointed him vice president of the Presidential Advisory Commission on Election Integrity. The commission has been widely criticized as an effort to support Trump's unfounded theory that millions voted illegally against him in November, as well as an excuse to suppress minority voting. As Kansas' secretary of state, Kobach launched a crusade against voting fraud in 2015 that has been a failure: he repeatedly warned that thousands of foreigners were voting in state elections, but after two years he has only sentenced nine people, almost all retired Republicans who were confused about their right to vote. Author of Arizona's controversial SB 1070 law, the Southern Poverty Law Center has dubbed him the "Lawyer for America's Nativist Movement."
Lobbyists
Mark Krikorian
Executive Director of CIS
For over 20 years, Krikorian has led the Center for Immigration Studies, the conservative think tank that has provided studies for Washington's immigration hawks. His studies usually portray immigration as a threat. The center has been called a "hate group" by the Southern Poverty Law Center. Now, with Trump in the White House, CIS has more influence than ever. Trump has cited CIS studies on the alleged threat posed by illegal immigrants to jobs or security. As The Daily Beast remarked, Trump's immigration policies appear to be following a CIS list of 79 suggestions published in April of last year.
Dan Stein
President of FAIR
While Krikorian is engaged in research, Stein is lobbying through his job at the Federation for American Immigration Reform (FAIR). Both groups were created by John Tanton, considered the pioneer of the modern anti-immigrant movement. Stein enjoys connections in Congress and the White House. A number of influential politicians have worked for FAIR, including Attorney General Jeff Sessions; Kris Kobach, Vice-President of the Commission on Election Integrity; Trump's counselor Kellyanne Conway; Trump Advisor Stephen Miller, and Republican Rep. Lou Barletta. FAIR is also considered a "hate group" by the Southern Poverty Law Center. "Although FAIR maintains a veneer of legitimacy that has allowed its principals to testify in Congress and lobby the federal government, this veneer hides much ugliness," reads the group's profile on the SPLC website.
Maria Espinoza
National Director of The Remembrance Project
Espinoza heads one of the restrictionist immigration groups that has gained attention in the Trump era. The Remembrance Project is dedicated to being "a voice for victims killed by illegal aliens." Created by Espizona in Houston in 2009, it recently moved its headquarters to Washington. The Texan says she founded The Remembrance Project following outrage over the case of Houston police officer Rodney Johnson, who died in 2006 while arresting an undocumented immigrant: "That's what got us started and the more we investigated, the more families we found," she told Univision, pointing out that she is the daughter of a Mexican immigrant who arrived in the United States legally. Once president, Trump created VOICE, a program for the victims of crimes committed by undocumented immigrants.