Opinion
Latinas are Ready to Take on Donald Trump
As the Republican presidential nominee, Republicans have endorsed and are ready to embrace this misogynist. It's not politics at its worst – it's humankind at its worst.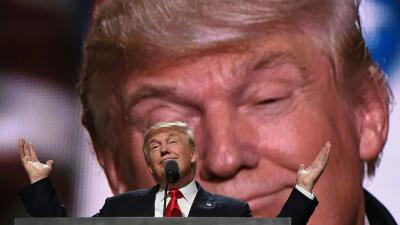 Republican presidential candidate Donald Trump addresses delegates at the end of the Republican National Convention
Crédito: Timothy A. Clary/AFP/Getty Images

Dog.
Slob.
Disgusting animal.
Third-rate hooker.
Fat pig.
These are the exact words Donald Trump has used to describe women. As the Republican presidential nominee, Republicans have endorsed and are ready to embrace this misogynist. It's not politics at its worst – it's humankind at its worst.
And if that wasn't enough, this is what Trump has said about Mexican Americans:
Rapists.
Criminals.
Drug dealers.
Make no mistake: Mr. Trump has a deep contempt for women and Latinos and his policy proposals reflect those beliefs. He wants to separate our families by ending birthright citizenship, ending the Deferred Action for Childhood Arrivals (DACA) program, and by building a wall on the Mexico-U.S. border. He has said that pregnancy is an inconvenience for employers and believes that providing paid family and medical leave would make the United States less competitive.
His dangerous political rhetoric has infiltrated and poisoned the Republican Party as demonstrated by the adoption of his proposals in their platform, pushing the party alarmingly to the far right.
Trump believes in pay discrimination and has suggested that women just need to work harder to get paid the same as a man doing the same job. This should be unnerving for every woman in America, especially to Latinas who only make 55 cents for every dollar earned by a white non-Hispanic man.
Yet we don't have to fear Trump because Latinas have the power to make sure he never sees the inside walls of the White House.
According to a 2014 report by the Center for American Progress, Latinas are one of the largest and fastest growing segments of eligible voters among women. Latinas can sway elections. Case in point: In 2012, President Obama won by 4.9 million votes. And 6.3 million Latinas voted.
Latinas want real solutions from our leaders, not talking points or hateful rhetoric or backward proposals. In a recent poll conducted by American Women, Voto Latino Action Network, and iAmerica Action, they overwhelmingly support policies that would help them and their families move ahead economically. Ninety percent of Latinas will vote for candidates who will fight for equal pay (a policy so critical for Latinas who earn 55 percent of what white non-Hispanic men are paid); 96 percent of millennial Latinas want leaders who support paid family and medical leave; and an overwhelming 92 percent of Latinas support a path to citizenship for immigrant families.
Latinas know what is at stake this November — that is why over 80 percent in the poll said they were "almost certain" to vote in November. Our future and our kids' future depend on it and our reproductive rights and economic livelihood are at risk by the recklessness of the presumptive Republican nominee and by the new Republican platform.
As the GOP holds its convention they should be mindful of the fact that the Latino community is watching and that our political power will only grow in decades to come. But we know they won't. As Latinas, as community leaders, and as those who care about this world, we will work hand in hand to stop Donald Trump.
Delia Garcia and Maria Cardona are members of the EMILY's List Latina Advisory Council.
Disclaimer: We selected this Op-Ed to be published in our opinion section as a contribution to public debate. The views and opinions expressed in this column are those of its author(s) and/or the organization(s) they represent and do not reflect the views or the editorial line of Univision Noticias.