Latin America
Life in the shadows of Venezuela's electricity rationing
Starting this week, the Venezuelan government began electricity rationing to try to ease an energy crisis. Citizens complain the blackouts are the last straw and are organizing a petition to remove the president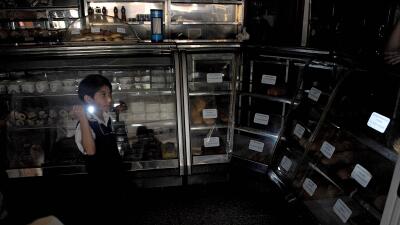 Un niño usa una linterna para iluminar una panadería en San Cristóbal. El racionamiento eléctrico afecta prácticamente a todo el país.
Crédito: Georges Castellanos / Getty Images
Ana Carolina de Ortega's week began at 3:45 am Monday, and she blames the electricity rationing.
"We woke up at that hour because the blackout was scheduled for 4 to 8 in the morning … We shut off the air conditioners to prevent any damage and tried to go back to sleep," said Ana Carolina, who lives in Maracaibo, capital of the western state of Zulia, on the border with Colombia and famous for its steamy climate.
The government of President Nicolás Maduro ordered the start of power blackouts this week, of four hours per day throughout the country except Caracas. The measure will be in effect for 40 days to overcome an energy crisis the government blames on the El Niño phenomenon and a prolonged drought that has affected the country's extensive hydro-electric system.
Venezuela's opposition began a signature drive on Wednesday seeking a referendum to remove Maduro as sporadic looting and protests over the economic crisis were reported in different cities
Protestas y saqueos en varios estados de Venezuela producto del racionamiento eléctrico
Maduro, 53, who succeeded his late mentor Hugo Chavez, has seen his popularity rode due to rampant inflation, widespread shortages and allegations of systematic government corruption.
De Ortega, 32, only knows that the electricity crisis has turned her life upside down. "I own a pastry shop, and I don't know how the rationing will affect the neighborhood. We work flat out to take advantage when we do have lights. Sometimes we have it for only four hours but we still have to pay our employees the full day, plus transport and food allowances," she said. "We cross our fingers and hope that our next door neighbor loses her electricity at a different hour, so we can ask her for help."
Adriana Arroyo was able to sleep a little later. She also lives in Maracaibo, but her neighborhood is blacked out from 8 to 12 in the morning. "My son's school has a special schedule. He's not in school one day per week, and I have to figure out what to do with him," said the 37-year-old. The blackouts are also aggravating the one problem that already gives her headaches: food shortages. "How can you save the food? You can't do much, because things spoil in the fridge," she complained.
Reacciones violentas en Venezuela por racionamiento de energía eléctrica
Surviving in the darkness is exasperating. All routines change, from sleeping to eating. Interruptions in the water supply make it worse. Without Wifi or other means of communications, the people feel isolated. The heat becomes intolerable. What's more, in a country with one of the world's highest homicide rates of 58 per 100,000 residents, there's a growing fear that criminals will take advantage of the darkness.
"A friend lost her electricity at 3 in the morning and it had not returned seven hours later," said Isabela de Souki, 30, who also lives in Maracaibo. "She had to go out to buy cooked food, which is more expensive. But she didn't want to give her baby cold food," said de Souki, adding that the enforced darkness drives her crazy. "It's not fair!" she shouted.
It's the same picture in eastern Venezuela.
"I am trying to figure out how to organize my agenda so I can take care of my patients," said María Daniela Celta, a 37-year-old dentist who lives in Puerto La Cruz in the state of Anzoátegui. "The children are in school in terrible heat. My daughter María Corina has gone without her school lunch because they have no way of heating the food. And many shops cannot work [accept credit cards] because of the blackouts, so you can only buy with cash," Celta said.
Before declaring the energy rationing, the government already had trimmed the work week for public employees, giving them Fridays off to save on energy but upending the work of state entities.
"The management offices of state enterprises are in the centers of the biggest cities around the country, so we get morning blackouts because we're in high-consumption areas. Add to that the fact that we don't work afternoons or Fridays," said an employee of Cantv, the state-owned telecommunications company, in Maracay, capital of the state of Aragua in central Venezuela.
The result, he added, is that "the citizens do not receive the attention they deserve while we work at 40 percent of our capacity."
Lorena Arráiz, 46, a professor of visual communications at the Los Andes University in the western state of Tachira, said the blackouts also have hit her classes. "Obviously we use audio-visual equipment … but we have lost the electricity a couple of times and we have been forced to cancel class," Arráiz said.
Updating an Internet news portal is not easy when the power is continually going out, Arráiz added. But her husband, a physician, faces even worse problems. "Generators in the clinics can power the operating rooms, but the doctors cannot do their regular work," she said.
Venezuelans already face many problems finding basic goods that are in short supply. And those problems are growing worse with the electricity rationing, said Carolina Isava, a journalist in Cumaná in the state of Sucre, in eastern Venezuela. Supermarkets in Cumaná ration the sale of groceries according to the numbers on the buyers' identity cards, Isave explained. "So if your day to buy coincides with a blackout, the supermarkets close and you're out of luck," she said.
Residents of the capital fear they could be next to experience blackouts as water levels drop to a critical threshold at the massive Guri Dam power station, one of the world's largest hydroelectric plants, that supplies Caracas with most of its electricity.
The chatter among Venezuelans, which used to focus on the shortages of food and medicine, the soaring inflation and the lack of security, now has a new element. "People now talk about the blackouts, about buying surge protectors for their equipment and getting battery-powered fans," said Juan Carlos Peralta, a 42-year-old electrical engineer in Maracaibo.
"Everything has been impacted. The banking and even the street traffic, because the traffic lights go out and chaos erupts," said Juan Carlos. "That's why it's increasingly rare to see smiling people, and there's an abundance of anguished and angry faces."