Latin America
Five countries and more than 7,000 miles: the odyssey of a Cuban family
Fearing changes in U.S. immigration laws, especially after Trump takes office, Cubans are leaving the island in record numbers.
MIAMI/ HAVANA - - Sitting on a bed in an Extended Stay hotel in Miami, a Cuban couple describe their 10-month, four country odyssey to reach a new life in the United States.
Tears well up as Regla Monte Rey, 43, recounts the perilous boat trip the family took with their two teenage sons this summer before landing on an uninhabited island off the coast of Puerto Rico.
"I was asking all the way for God's help and all the 'orishas' (Afro-Cuban religious spirits) that exit on this earth, to help us as well," she said.
Univision met Monte Rey, her husband German Correoso, 59, and their sons Kevin, 15, and Kendry, 14, soon after they arrived in Miami in late July, and followed their progress and eventual resettlement in Lancaster, Pennsylvania.
Their story is typical of tens of thousands of Cuban families who abandon the communist-run island every year to take advantage of a uniquely generous immigration status afforded to them in the United States under a 1966 law known as the Cuban Adjustment Act.
The law has come under mounting criticism from longtime Cuban exiles in Miami who say it is being exploited by economic migrants from the island. Fears that it might one day be repealed – especially by a Donald Trump administration – have caused a massive spike in Cubans arriving in the United States in recent months to seek U.S. residency under the law.
During the last fiscal year (Oct 1, 2015 - Sept 30, 2016) about 54,000 Cubans showed up at U.S. ports of entry seeking to migrate, according to U.S. Customs and Border Protection data. That's double the number in 2014.
About 30,000 more Cubans migrate annually to the U.S. through formal channels at the U.S. embassy in Cuba, either via families petitioning to be reunited with close relatives in the U.S. or political asylum and a global visa lottery program.
Cubans coming to the United States
The number has doubled since 2014
FUENTE: U.S. Customs and Border Protection | UNIVISION
Arrivals of Cubans - with, and without visas - in the United States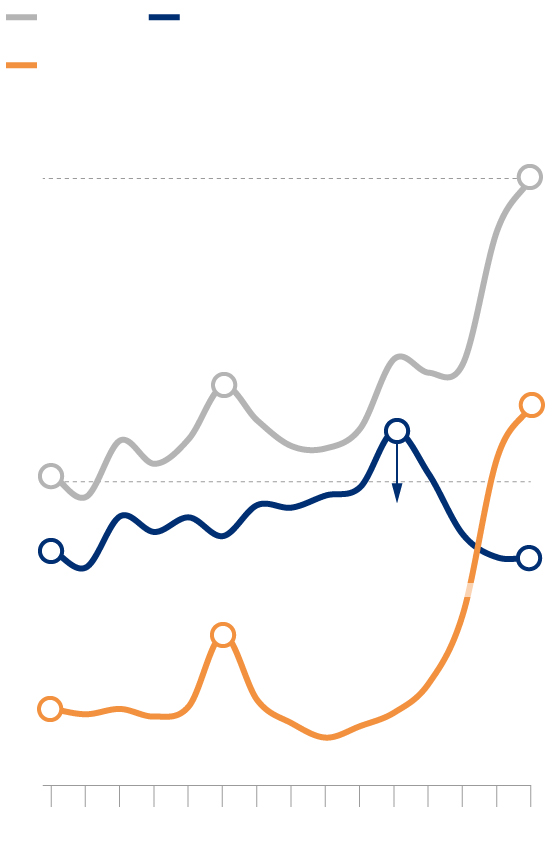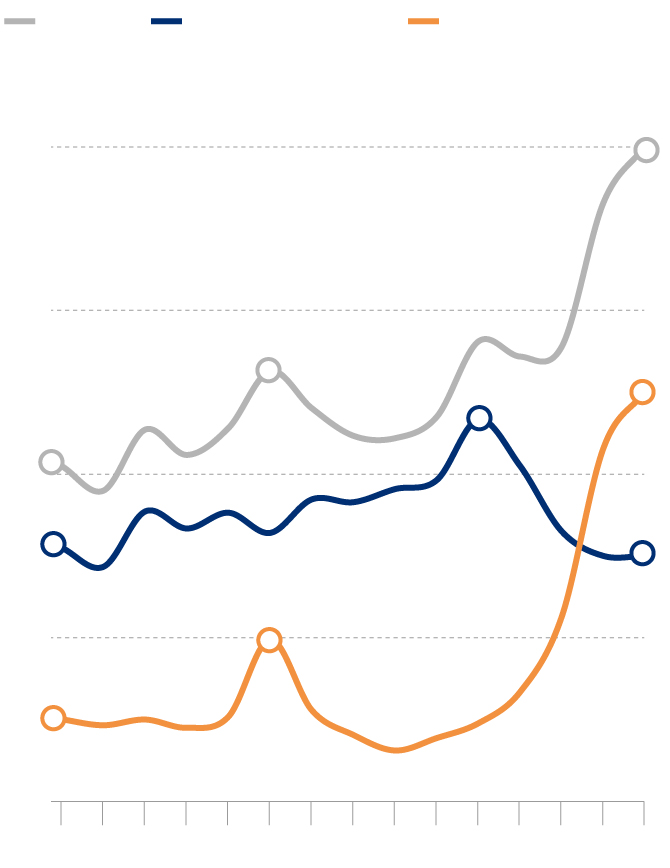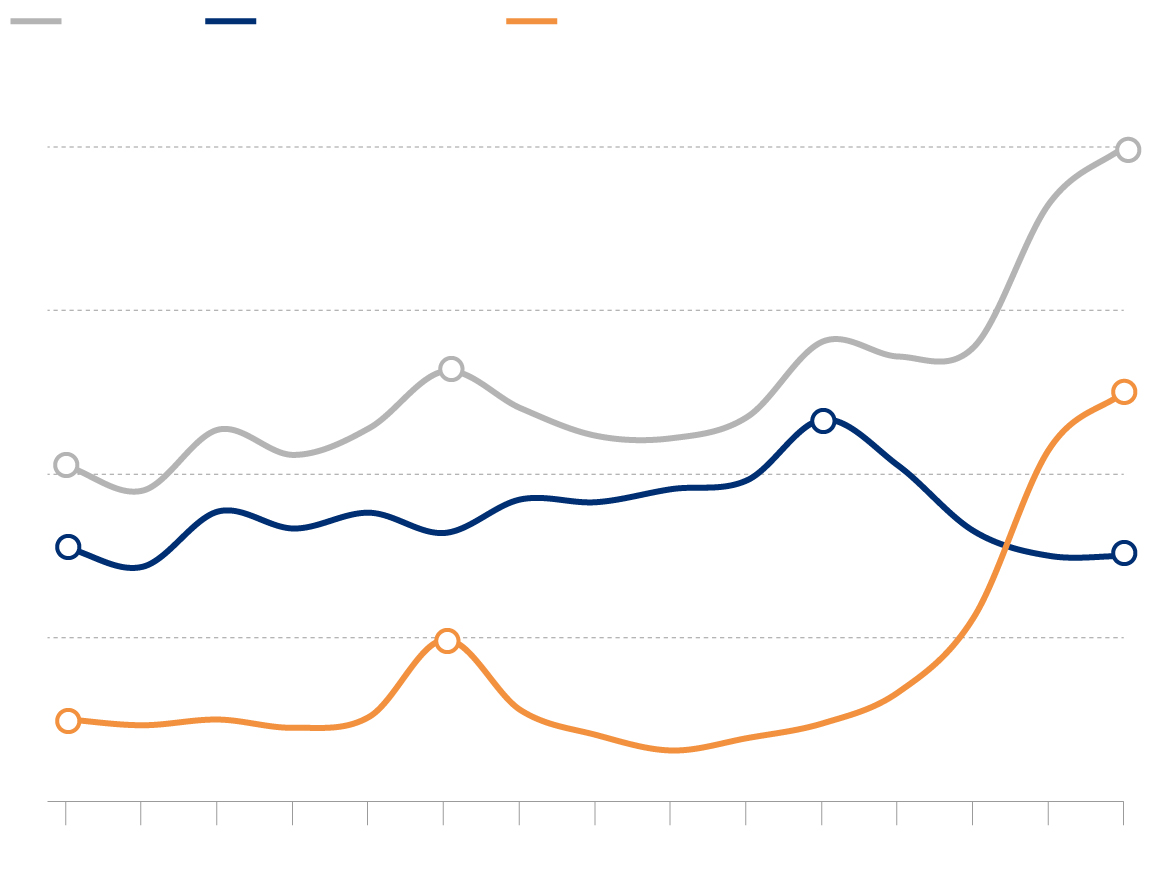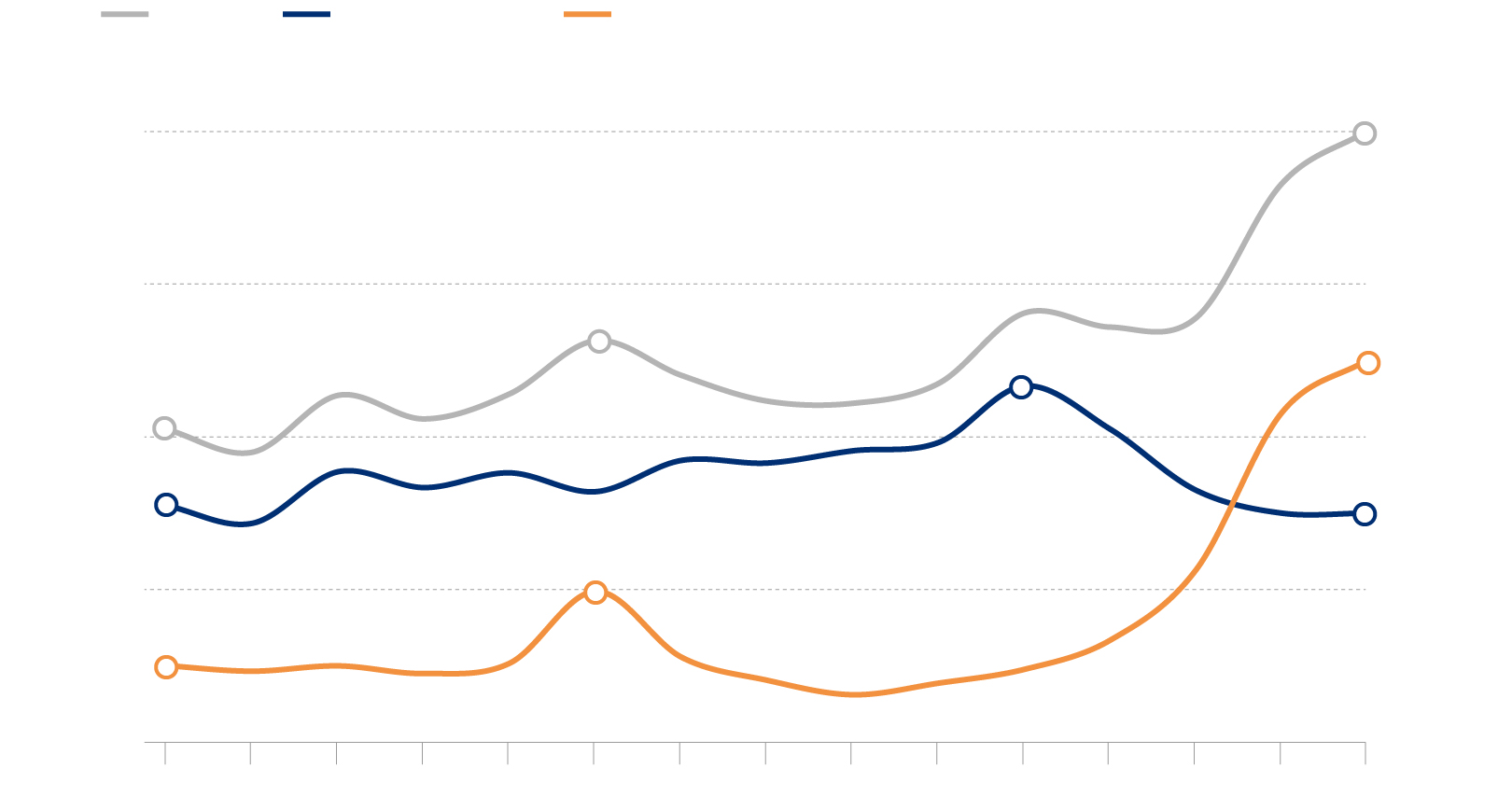 SOURCE: Oficina Nacional de Estadísticas e Información (ONEI), U.S. Border Patrol, U.S. Coast Guard, The Havana Consulting Group, TECH | UNIVISION
Meanwhile, in Cuba the law leaves behind torn families as well as a brain drain of Cuban talent, from doctors to baseball players.
"I miss my daughter and grandchildren so much," said Monte Rey's mother, Caridad Guerrero, 61, who lives across the street from Correoso and Monterrey's former house in Vieja Linda, a working class barrio of badly pot holed streets on the southern outskirts of Havana.
"This separation has destroyed my life. I would like to visit them (in the United States) but not to live there. I am happy here in Cuba."
The journey: four countries in 10 months
Correoso, Monte Rey and their two boys left Cuba in September last year bound for the United States, but with no clear idea how they would get here.
To finance the journey the two former teachers sold all their belongings, including their house and car.
Armed only with passports, a bit of cash and gritty determination, the first leg involved a flight across the Caribbean – but in the direction opposite to their final destination.
Instead of flying north to Miami – barely 200 miles off the coast of Havana – they headed 2,000 miles south to Guyana, a small, tropical nation on the coast of South America, one of only three countries that do not require visas for Cubans (the other two are Trinidad and Russia).
Upon landing in the capital, Georgetown, they wasted no time finding a bus to drive 14 hours through the jungle 250 miles further south to the border with Brazil. Once across the border they took a taxi to the city of Boa Vista, and then another plane to the capital Brasilia.
Unlike other Cubans who this year have made the hazardous journey up the Amazon to Colombia and then across the impenetrable Darien jungle to Panama, the couple looked for other options.
"The entire region of Central America was boiling over with the enormous number of Cubans who had the same intentions as ours," said Correoso. "That possibility began to close as first Nicaragua, then Costa Rica and Panama began to close their borders to Cubans."
The family was able to obtain temporary work permits in Brazil. The couple took jobs washing dishes in restaurants, while the boys were in school.
Staying in Brazil was not an option for them. "We worried a lot about the security there. It is very different from what we are used to in Cuba," said Monte Rey.
They spent the next nine months trying to figure out the next stage of the journey, eventually settling on another well-trodden smugglers' route.
With the help of friends and family in the United States they bought plane tickets in July to fly to Port-au-Prince, Haiti's capital.
They then took a small plane to Haiti's second city, Cap Haitien, on the north coast, where they were met by smugglers who walked them by night across the border to the Dominican Republic.
"We walked and walked over mountains and two rivers, keeping hidden. There were two guides who helped us, it was a dark, moonless night," said Correoso.
They would spend 12 days in the Dominican Republic, making their way to the southeast coast resort town of La Romana where small, narrow smuggler boats with outboard motors, known as 'yolas,' offer rides across the dangerous Mona Passage, a busy shipping route separating the Dominican Republic from the U.S. territory of Puerto Rico.
About half way across – a distance of 70 miles – sits the tiny, uninhabited island of La Mona, which belongs to Puerto Rico. The family knew that the U.S. maintains a nature reserve on the island and that as Cubans they would be welcomed.
They departed at dusk, 16 people crammed into the small open boat, seated in rows, with no deck or cabins to take refuge.
The Mona Passage is famous for its choppy seas and strong currents. As they left the coast behind, the seas began to toss the boat.
"It was the most difficult and dangerous eight hours I've ever faced in my life," said Correoso.
"The waves got bigger and there was a moment we thought we were not going to make it. I thought the boat was going to sink. My youngest son next to me was holding on tightly, I grabbed him, by the arm and his mother. We had the other boy sitting on the bottom of the boat between our legs."
They landed on La Mona Island before dawn on July 26. Exhausted and relieved, they sat on the beach until the sun came up, before going in search of the U.S. Coast Guard.
Hours later, after being fed, they were on a U.S. helicopter being flown to San Juan. Next stop Miami.
Univision met Correoso, Monte Rey and the boys three weeks after their arrival in Miami, at a hotel near Miami airport where they were being housed under a federal program for Cuban migrants administered by church relief agencies.
They were awaiting notice of their final re-location to Lancaster, Pennsylvania, where Church World Service, a Protestant immigration and refugee services agency, was helping resettle them. That included assistance in filling immigration papers, including an application for U.S. permanent residency – the famous 'green card' – and social benefits, including a three month housing and food allowance.
The hotel was packed with Cubans, some sunburned from other sea voyages to the shores of Florida in home-made rafts.
Crammed into one room with two double beds, Correoso and Monte Rey were brimming over with gratitude for the assistance, anxious to move on with their lives.
"It's really been an enormous surprise to find the help that Cubans receive here," said Monte Rey.
What drove them to embark on such a risky adventure?
"Living conditions in Cuba are not easy and it was getting more and more difficult for us," said Correoso.
Monte Rey taught math and Correoso biology, before they quit their $25-a-month jobs a few years ago to find better pay. "We decided to look for professions that would give us a little more possibility. We got out of education," said Correoso.
He took a job as an inspector with the Ministry of Labor and Social Security, and then as director of logistics for the cargo terminal at Havana airport, and finally as administrator of agricultural markets in his province.
"In Cuba, getting a job is not that difficult, getting a job that brings you benefits is what is difficult," he added. "Sometimes you feel like a stranger in your own country as you can't afford to do things other people do, like go out for dinner to a nice restaurant or stay in a hotel."
His wife added: "That is what is happening today in Cuba. I do not think that many Cubans leave Cuba because of a political problem. Cubans practically don't participate in politics. That's the reality."
But they both said politics still played a role in their decision.
"Maybe we're running away from a system we do not support. Because we're not going to hide the fact that we do not want to be communists, we don't want this weird socialism that we have," said Correoso.
The timing of their departure was also intensely political, prompted by fears that the Cuban Adjustment Act could soon be repealed. "Many Cubans who are migrating to the United States fear what is going to happen with the law," said Monte Rey.
"Everyone realizes it could disappear … because we don't know what may happen after the election. We realize it won't be there forever," she added.
Despite a major in shift in U.S. policy under President Barack Obama in the last two years, including the restoration of diplomatic relations, Correoso said little had changed on the streets in Cuba.
"People feel hopeless, because they see that time goes by and far from solving anything some problems become more acute," he said.
"Cuba and the United States are still very apart, on many things, irreconcilable things," he added, referring to the U.S. economic embargo and rival property claims, such as the U.S. naval base at Guantanamo. "We ordinary Cubans, we're caught up in this conflict. We feel trapped."
In late-August they packed their bags one more time to move to their new home in Pennsylvania.
"When we got here to the house, we were given an envelope." There was money, a house key, and a map to help them find important places, like the local supermarket.
"It was spectacular because I miss cooking," said Monte Rey. "The only thing lacking now is dominoes to make it more Cuban still."
For their first meal, Monterrey cooked rice and beans, while Correso roasted some pork – traditional Cuban fare.
The boys were looking forward to returning to school and the prospect of winter weather. "I've never seen snow. It will be epic to be able to touch the snow," said Kendry.
"I have so much to learn," he added. "Someday, I'll tell my children everything I went through. And someday I'm going to go to Cuba and tell everyone there, all my friends, 'Look, I went through thousands of things to get to where I am now.'"
Back in Havana, Monte Rey's mother, Caridad Guerrero, says her life is empty now that they are gone. Her daughter kept her plans secret from her and only confided by telephone after she was already in Brazil.
Guerrero could barely speak to her daughter on the phone when she finally called. "I had a big knot in my throat and I hung up," she said, sitting in a rocking chair on her front porch.
To protect the home, she keeps a small, cast iron bow and arrow paper weight at the foot of her front door, a symbol of the Afro-Cuban warrior God, Ochosi.
It used to belong to Monte Rey, and is meant to protect her too. Her name is written on the piece of paper it sits on. Both mother and daughter are initiated as saints in Cuba's Santeria religion.
A large glass-cased human-sized figure of Saint Lazarus, considered a healer God (Babalú-Aye in Cuba's Yoruba faith), stands against one wall in the garden.
Outside in the street children play on rusty, broken swings in a park, as others race downhill in the street on " chivichanas" – homemade wooden skateboads.
Street vendors pass by shouting out their products: " Hay papas," (got potatoes), one man shouts.
Two men play a studious game of chess under the shade of a palm, jointly balancing the chessboard on their knees.
A family cooks a pot of freshly butchered pork on a wood fire by the side of the road.
At the local market workers fondly remember Correoso. "German is a very good man," said Humberto Martinez, 46. "Life isn't easy and we wish them the best."
Gema Mora, 33, recalled her former neighbors. "They deserve to be where they are," she said. "They were the best compadres of my life," she said.
Coreoso and Monte Rey are the godparents of her five-year-old daughter Leancy. The little girl smiled at the mention of their names. "When is the airplane coming to take me too?" she said.
Guerrero misses coming home from her job in a café to prepare a snack for Kevin and Kendry after school. The boys would watch cartoons on TV waiting for their parents to get home.
She was sick with worry after they left, having heard too many stories of families lost at sea, or separated for too many years. She was hospitalized twice due to stress and a diabetes condition.
She also had strong views on illegal emigration. "I'd rather people didn't leave that way. Why do they risk it?" she asked, while sitting in a rocking chair with her neighbor's dog on her lap.
"The most important thing is they are alive."
She doesn't worry too much about their future. "They are intelligent, educated people. They are teachers so I think they will do well," she said.
She hopes one day to visit, but realizes it won't be easy to get a visa because of the risk she will claim adjustment status too. "I hope one day they will let us older folk come and go, so anyone who wants to can visit their family. I'd like to see my grandchildren, so if one day I die I can at least say 'I saw them once.'"
While she bemoans her fate, she has few complaints about life in Cuba. "It's not so bad here," she said, noting that she doesn't have to pay for her diabetes care.
Her $16 a month salary doesn't go very far after she's paid the water and electric bill. But she doesn't need much. "If you don't eat in this country it's because you don't work. There is work here for people who make an effort," she said.
"There are worse places. Look at what's happening in Brazil and Venezuela," she added, noting the violence, political protests and allegations of corruption.
Despite everything, Correoso and Monte Rey said Cuba will always be their home too.
"We love our country very much, and we're never going to forget Cuba. We've never said we won't go back ever," Correoso said. "Nor do we want to stop being Cubans, or our children not to be Cubans. We want to remain Cuban until the end."
He paused, and cleared his throat. "If someday Cuba will improve and things change, with pleasure we'd return to our homeland."
Correoso and Monte Rey both now have part time jobs in Lancaster working for an internet clothing sales company. They have full-time job interviews coming up. They are now paying their own rent and are off federal benefits. And they bought a car, a second-hand Mitsubishi. It was 11 degrees below zero last weekend in Lancaster. The boys, now aged 16 and 15, saw their first snowfall.
Additional reporting by Ana Maria Rodriguez in Lancaster and Pablo Cozzaglio in Havana.