Latin America & Caribbean
After Fidel Castro's death, what comes next in U.S.-Cuba relations?
The big question today is not whether the Cuban revolution will collapse, but rather how the absence of Fidel will affect the pace of economic reforms already underway.
26 Nov 2016 – 12:56 PM EST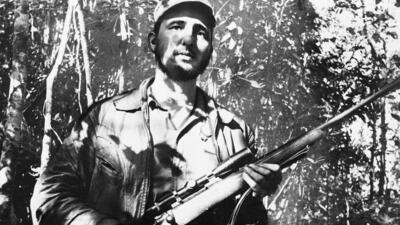 Fidel Castro in 1957.
Crédito: Ap | Univision
For many years, critics of Cuba's one party communist system predicted that the death of Fidel Castro would spell doom for the Cuban revolution he built over five decades.
While it is certainly a painful blow to supporters of his hardline, dogmatic style of leadership, it would be a serious mistake to underestimate the durability of Cuba's Communist Party, or the underlying state bureaucracy that controls most social, political and economic activity.
Fidel's departure was already a fait accompli after a sudden gastro-intestinal illness that forced him to step down as president in 2006 and hand over the reins to his brother Raul Castro. He never fully recovered and his influence gradually faded over the last decade, but Cuba's communist-led institutions survived intact.
The big question today is not whether the Cuban revolution will collapse, but rather how the absence of Fidel will affect the pace of economic reforms already underway. Under the more pragmatic leadership of Raul Castro, Cuba has already begun to redefine its socialist system, allowing a greater role for private sector enterprise - what some see as the evolution of Chinese-style state capitalism.
"One revolution is ending and another is beginning," said Emilio Morales, former marketing director of CIMEX, the largest state-run corporation. Fidel's death will have a magical effect on Cuba, he added. "It's the end of a socialist utopian era and the beginning of an era of capitalist transformation," said Morales, president of Havana Consulting Group, a Miami-based company that advises would-be investors in Cuba.
For the time being most analysts predict little change in Cuba. A succession process is already in place and Raul Castro, now 85, is scheduled to hand over power early in 2018 to vice-president Miguel Diaz-Canel, a 56-year-old former provincial party leader considered to be a more moderate reformer.
"The Cuban Government was at the brink of adopting new reforms by the end of the year and the beginning of 2017 as the end of Raúl's second term is closer," said Carlos Alzugaray, a retired Cuban diplomat.
"With Fidel gone, if there were any red lines that could not be crossed, they disappear with him," he added.
To be sure, the death of Fidel Castro poses one of the greatest existential challenges to the Cuban Communist Party's hold on power. It also opens the door to possible political in-fighting as pro-Fidel hardliners try and cling to his legacy and resist the "Raulista" reformers pushing for faster-paced reforms.
Raul Castro until now has sought to manage a clever compromise of very gradual, slow but steady reform, what he has dubbed "sin prisa, pero sin pausa" ('without haste, but without pause').
While that has tested the patience of many Cubans, others prefer a steady hand, fearing an accelerated pace could bring chaos, as happened with political and economic reforms ('perestroika' and 'glasnost') in the final days of the Soviet Union.
"The reforms have not moved forward as expected because of the regime's fear/insecurity of its spill-over effects into the political realm," said Frank Mora, a Cuban American who heads the Latin American and Caribbean Center at Florida University.
The Cubans are "feeling a bit lost/disoriented about how to manage consequences of the forces that might be unleashed by normalization of relations with Washington," he added.
"Without doubt, the passing of Fidel Castro will remove a major obstacle to economic reform, as he was the titular leader of the old guard suspicious of market mechanisms and a private sector seen by conservatives – and his generation of historicos - as corrupt, anti-patriotic and too open to foreign influences," added Richard Feinberg, a senior fellow at the Brookings Institute in Washington and author of 'Open for Business: Building the New Cuban Economy.'
"Now, his younger brother Raul may feel freer to act on his own instincts and move Cuba forward into the 21st century," he added.
The party has historically earned a reputation for remarkable political discipline, and has dedicated much of its efforts and resources to the formation of new generations of leaders to ensure its longevity.
In recent decades though, a combination of domestic economic hardship and aging leaders has alienated the party from the country's dispirited and politically apathetic youth. Emigration to the United States has soared and many youth look to the United States for both economic remedies – either by greater contact with tourists or thanks to remittances sent by relatives abroad – as well as cultural influences that have undermined any remaining zeal for socialist revolution.
The election of Donald Trump makes for an even more fascinating scenario. While Trump has been critical of President Barack Obama's restoration of diplomatic ties with the island and encouragement of U.S. investment, it is unclear how far he plans to turn the clock back. Fidel Castro's death will make it far easier for Trump to resist pressure from hardline Cuban exiles in Miami who supported his election campaign and want to see Obama's policy undone.
Trump will no doubt put the brakes on Obama's policy of engagement, but he is more likely to adopt a wait-and-see policy for the time being as the post-Fidel era unfolds, said Mora.
"Trump has bigger fish to fry and I don't see how Cuba is a priority for him," said Mora, who headed the Latin America department at the Pentagon during Obama's first administration. "But there will definitely be a freeze on future engagement with Cuba," he added.
"For US-Cuba relations, the passing of Fidel Castro removes the object of hatred, fear and revenge of many Cuban-Americans, bringing to an end what has been one of history's longest grudge matches," said Feinberg. "And making it less likely that Trump will want to reverse Obama's opening to the island," he added.
Last week Trump appointed one of Obama's harshest Cuba critics, Mauricio Claver-Carone, to his transition team at the Treasury Department, which controls commercial regulations for embargoed nations, including Cuba.
However, with Fidel Castro out of the picture, a key impediment to lifting the embargo is removed. Under U.S. law the embargo can only be lifted when the Castros relinquish power.
After futile efforts to topple the Cuban government over the decades – including military invasion, assassination plots and a five decades old economic embargo – some analysts predicted any change to U.S. policy would have to wait for what was dubbed the "biological solution."
With Fidel's death that is now one step closer.
If Cuba's transition goes according to plan the next step could happen some time after 2018 when Raul Castro steps down.
"Trump will be the president who lifts the embargo in 2019 when there is no longer a Castro in power," said Morales.
It's not quite as simple as that. The embargo also insists on the holding of free and open multi-party democratic elections in Cuba. While Cuba's leaders may be willing to cede economic space to private sector capitalism as a matter of economic survival, there is no sign yet they are willing to accept political competition.