Proud of Who We Are
"Our words matter. Even if you don't have an LGBT family member, each of us impacts how our loved ones embrace or reject 'others.' Let's all take that responsibility seriously."
Opinión
Vice President, Corporate Social Responsibility, Univision Communications Inc. / Co-Chair, Orgullo|Pride@UCI, an employee impact group of Univision Communications Inc. serving Lesbian, Gay, Bisexual and Transgender (LGBT) employees and their straight allies.
2016-06-16T12:15:21-04:00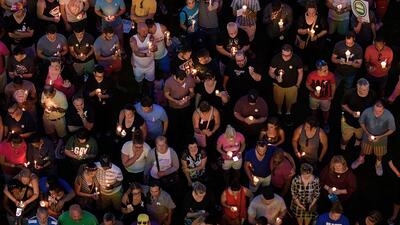 Mourners hold candles while observing a moment of silence during a vigil
Crédito: Brendan Smialowski/AFP/Getty Images

To belong is a very human goal. We feel safer, and stronger when we are among our own. That is certainly true of the American family, the Latino family, and the LGBT family.
All three of those families converged at Pulse nightclub on Saturday night. Appallingly, someone who had hate pulsing through his veins challenged that sense of belonging, and pierced the security we feel when we come together. His callous brutality prevented 49 people from breathing. Forty-nine mothers from seeing her child grow old. Forty-nine dreams from being pursued.
This tragic event raises critical debates about a variety of issues – chief among them is the need to address the contributing factors to the hate that was on display by the assailant. While we all feel more comfortable when we are among our own, what can we do to promote acceptance and understanding of those who may not belong to our same race, religion, gender, sexual orientation or gender identity?
Our community knows all too well how it feels not to belong. While we have certainly made tremendous progress that deserves recognition, we, too, face steep challenges in our struggle to feel that sense of belonging in the U.S.
The vast majority of the 49 victims were our Latino brothers and sisters. Each of them grew up craving that sense of belonging – that urge to feel embraced by those who shared their cultures, their love. In fact, that is what brought them together on Saturday night. Love. A love of Latino culture, and a shared understanding of who they love.
We know that strong religious ties and a tradition of machismo can cause many of our Latino families to reject an LGBT child. "It's cultural," we say. But it's wrong.
Two years ago, employees from across Univision Communications came together to form Orgullo|Pride@UCI, with the goal of ensuring that all employees here at Univision – including LGBT employees – feel welcome. After such a terrible tragedy, we invite you to join us and expand our mission. Think about what you can do or say to your friends and families to create a more welcoming, inclusive environment for those in the LGBT community.
Our words matter. Even if you don't have an LGBT family member, each of us impacts how our loved ones embrace or reject "others." Let's all take that responsibility seriously. After all, everybody just wants to belong. Let's show them that we think they do.
We selected this Op-Ed to be published in our opinion section as a contribution to public debate. The views and opinions expressed in this column are those of its author(s) and do not reflect the views or the editorial line of Univision Noticias.