Immigration
On immigration, Mike Pence and Donald Trump have much in common
From ending birthright citizenship to sealing the border, Trump's running mate has advocated to restrict immigration for more than a decade.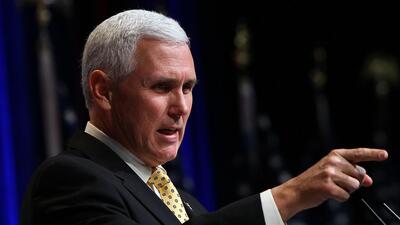 Mike Pence, vicepresidente de Estados Unidos.
Crédito: Win McNamee/Getty Images
Donald Trump has caused controversy on the campaign trail by advocating for the construction of a border wall and the mass deportation of undocumented immigrants. But his new vice presidential pick, Indiana Governor Mike Pence, has made similar proposals throughout the course of his political career.
Although Pence publicly criticized Trump's proposal to ban Muslim immigrants from the United States, his position on immigration closely resembles that of the presumptive nominee. From his days as a congressman, between 2001 and 2013, and then as governor, Pence supported laws and policies to limit the rights of undocumented immigrants. He even proposed a border wall, and helped pass legislation that led to construction of a border fence.
For that work, he was rated 100% anti-immigrant by the anti-immigration organization Federation for American Immigration Reform (FAIR), as well as supported by other anti-immigrant groups, according to the American Immigration Council, a Washington-based advocacy organization.
"Pence, being anti-immigrant and having proposed building a wall on the border with Mexico, will make us redouble our efforts to support a candidate seeking to pass comprehensive immigration reform," Gustavo Torres, executive director of immigrant advocacy organization Casa de Maryland, told Univision News.
Here is a rundown of Pence's positions on immigration:
As governor of Indiana, Pence supported the Texas lawsuit to halt DAPA and expanded DACA, executive action programs President Barack Obama created that would have protected some 5 million immigrants from deportation. (Indiana was one of 26 states party to the lawsuit.) He also praised the Supreme Court ruling in late June that upheld the suspension of these programs.
In 2006, Pence introduced an immigration reform bill in Congress seeking to force undocumented immigrants to " self-deport" and apply for a guest-worker program. The proposed legislation also sought to seal the southern U.S. border by building a fence. The bill didn't pass.
Pence supported the Secure Fence Act of 2006, legislation that enabled the construction of close to 700 miles of fencing on the U.S.-Mexico border.
Pence twice supported a failed bill that would have effectively ended birthright citizenship. The legislation would have limited citizenship to children born of at least one U.S. citizen or legal permanent resident parent, or a parent on active duty in the military.
State-based immigration laws
Pence defended SB 1070, Arizona's controversial 2011 immigration law requiring police to determine a person's immigration status if there's "reasonable suspicion" the person is undocumented. "We can't blame Arizonans for trying to reaffirm the rule of law," he said in a 2011 NBC interview.
Health care and medical repatriation
In 2004, Pence voted in favor of the HR 3722 bill, which would have allowed hospitals to deny care to undocumented immigrants if they could be moved to their country of origin. Hospitals would have had to gather information on undocumented patients before receiving federal reimbursements for providing care. Pence also voted against state health and education benefits for undocumented immigrants.
Last year, Pence tried to prohibit Syrian refugees from moving to Indiana, telling state agencies to halt resettlement assistance. The American Civil Liberties Union sued, and a federal judge ruled the state couldn't block funds for refugee resettlement.
With additional reporting by Rachel Glickhouse