United States
Largest evacuation in 25 years underway in Florida as monstrous Irma nears
South Florida residents flee recalling devastation from Hurricane Andrew in 1992. "This is hurricane Andrew on steroids, and we all remember what happened that fateful day 25 years ago," says local police chief.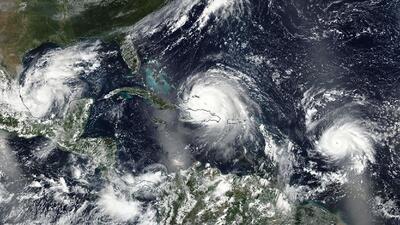 Hurricane Irma continued its devastating path through the Caribbean Friday as Cuba evacuated tourists from beachside resorts and South Florida residents mounted the largest evacuation in 25 years as the death toll from the monster storm rose to 11 people.
The first hurricane warnings were issued for large parts of southern Florida as the state braced for the largest strike since Andrew in 1992, which killed 44 people and destroyed 127,000 homes.
Irma regained strength as a Category 5 storm late Friday with maximum sustained winds near 160 mph (260 kph), about 300 miles (485 kms) south-southeast of Miami. Like Andrew, Irma is a fast-moving large storm, though it has a far larger diameter of hurricane-force winds extending 105 miles wide, and a diameter of tropical storm-force winds up to 310 miles.
Fueled by the warm waters of the Caribbean, Irma spun past the Dominican Republic and Haiti on Thursday and began to buzz along the northern coast of Cuba on Friday morning. Thousands of tourists were evacuated by buses from low-lying keys off the Cuban coast Thursday in anticipation of 20-foot storm surges.
In Florida, forecasters are warning the storm could slam headlong into South Florida, before pummeling the entire length of the state's east and west coast.
"It's taking a more southerly track nearer to Cuba which will keep it from intensifying," he said. But he stresssed "there's still going to a big storm surge,"
More than a half-million people in Miami-Dade County were ordered to leave as Irma closed in. In Miami Beach and Key Biscayne the streets were almost deserted on Friday morning with stores closed and shuttered.
Many residents drove north to Orlando and as far away as Atlanta, Georgia, while others tried to find the last flights out of Miami International Airport, which is due to close Friday night.
He said residents could expect a 7-10-foot storm surge, engulfing the entire island, most of which is under 7 feet above sea level.
"That's a wall of water that will engulf the island of Key Biscayne up to 10 feet high in some places. If you're in a low-lying area, if you're in a one-story home, the chances of survival at that point are going to be slim," Press warned.
"There is no sweet way to say this is probably the most dangerous storm any of us have ever faced."
Irma is the most potent Atlantic Ocean hurricane ever recorded. With gasoline running out and tensions rising, the Florida Highway Patrol escorted tanker trucks to replenish gas stations.
"It is wider than our entire state and could cause major and life-threatening impacts from coast to coast," Florida Gov. Rick Scott said. "Regardless of which coast you live on, be prepared to evacuate."
The reduction in the peak winds is not necessarily a good thing, since the weather data showed that the hurricane-force winds of the storm had spread out over a larger area, which will increase the storm surge, said Masters.
On its curent track Irma is epxected to make landfall in the Florida Keys early Sunday. That is dangerously close to the Turkey Point nuclear power plant that provides much of South Florida's electricity. Operated by Florida Power & Light (FPL), the company said it planned to shut down the reactors if the hurricane came dangerously close.
In rural central Florida, the U.S. Army Corps of Engineers also began dumping water out of Lake Okeechobee on Sept. 5 to keep the 143-mile long Herbert Hoover Dike from breaching and overflowing into surrounding towns and sugar cane fields. This will cause severe pollution problems along both coasts of Florida where the fertilizer-laden water are diverted into coastal estuaries.
French, British and Dutch military authorities rushed aid to a devastated string of Caribbean islands where at least 11 people were dead and thousands homeless. Warships and planes were sent with food, water and troops after the hurricane smashed homes, schools and roads, laying waste to some of the world's most beautiful and exclusive tourist destinations.
French Prime Minister Edouard Philippe said Thursday that four people were confirmed dead and about 50 injured on the French side of St. Martin, an island split between Dutch and French control, where homes were splintered and road signs scattered by the fierce winds.
At least four people were killed in the U.S. Virgin Islands, and officials said they expected to find more bodies. Authorities described the damage as catastrophic and said crews were struggling to reopen roads and restore power.
Three more deaths were reported on the British island of Anguilla, as well as Barbuda and the Dutch side of St. Martin.
The hospital on St. Thomas was destroyed and dozens of patients were being evacuated to St. Croix and Puerto Rico by the U.S. Coast Guard. Local official said a U.S. Navy hospital ship was arriving as early as Friday to care for unknown numbers of injured and two Air Force C-130s transport planes were bringing in food and water.
Big waves smashed a dozen homes into rubble in the Dominican fishing community of Nagua, but work crews said all the residents had left before the storm.
On Barbuda, nearly every building was damaged when the hurricane's core crossed almost directly over the island early Wednesday. About 60 percent of its roughly 1,400 residents were left homeless, Antigua and Barbuda Prime Minister Gaston Browne said.