Immigration
US rescinds 'wet foot, dry foot' policy for Cubans
Obama makes his last move on historic shift in Cuba policy. From now on Cubans will receive almost the same immigration treatment as others, ending a 20 year old policy that favored Cubans.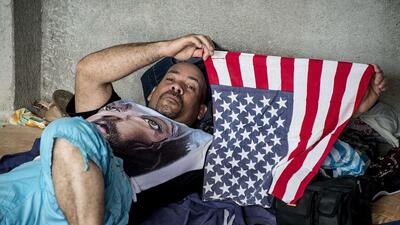 About 7,500 Cuban migrants camped out along the Costa Rican and Nicaraguan borders last year, before being allowed entry to the United States.
Crédito: Getty Images
The Obama administration is rescinding a 20-year-old policy, known as "wet foot, dry foot," that gave special immigration privileges to Cubans who reach the United States, the White House announced on Thursday.
"Effective immediately, Cuban nationals who attempt to illegally enter the United States will be subject to removal, consistent with U.S. law and enforcement priorities," President Barack Obama said in a statement.
"By taking this step, we are treating Cuban migrants the same way we treat migrants from other countries," he added.
Before Thursday, Cubans who reached dry land enjoyed a unique status that allowed them to be paroled into the country, receive temporary benefits such as a housing and food stamps, and automatically become eligible for U.S. permanent residency after one year, and eventually U.S. citizenship.
From now on, "they will like a Guatemalan, like a Salvadoran or like a Mexican," said Miami immigration attorney Wilfredo Allen. "They will have to apply for political asylum, have a credible interview, and fight ... to become legal," he explained.
Obama began normalizing relations with Cuba in December 2014 after more than 50 years of hostility, re-establishing diplomatic relations and reopening embassies in the summer of 2015. But the decision to change the "wet foot, dry foot" policy came as a surprise as U.S. officials had for months said that U.S. immigration policy for Cubans was not part of the ongoing discussions.
It's likely Obama's last move on Cuba policy before he leaves office in a week's time, cementing what has become one of the major legacy issues of his presidency.
The U.S. and Cuba have spent several months negotiating the policy change, including an agreement from Cuba to allow those turned away from the U.S. to return, according to the White House statement.
Under the terms of the agreement, Cuba has agreed to take back those turned away from the U.S., if the time between their departure from Cuba and the start of deportation hearings in the U.S. is four years or less.
The Cuban government praised the move. In a statement read on state television, it called the signing of the agreement "an important step in advancing relations" between the U.S. and Cuba that "aims to guarantee normal, safe and ordered migration."
The United States is also ending the special Cuban Medical Professional Parole program that enticed Cuban doctors to defect to the United States. Cuba also agreed to take back 2,746 Cubans who left the island in the 1980 Mariel boatlift but were classified as criminal or mentally ill and have been stuck in U.S. jails ever since.
The surprise nature of the policy move meant some Cubans seeking to leave the island were left high and dry after selling their homes and belongings to pay smugglers.
Other recent arrivals celebrated their good fortune. Cuban doctor Dania Maria Cao Quintero arrived to Miami on December 19 after a more than two month journey, much of it by foot, from Venezuela, which cost $7,000. "I am shouting in amazement and joy thinking what would have happened to me and sadness for those who are on the route and aren't going to be able to enter," she said Thursday. "Glory to God!"
U.S. Senator Jeff Flake (R-Ariz.), a long -time supporter of engagement with Cuba said "ending 'wet foot, dry foot' is in our national interest. It is a win for taxpayers, border security, and our allies in the Western Hemisphere."
He went on: "It's a move that brings our Cuba policy into the modern era while allowing the United States to continue its generous approach to those individuals and refugees with a legitimate claim for asylum."
The "wet foot, dry foot" policy dates back to the Clinton administration and was introduced in response to a flood of 35,000 boat people from Cuba who took to the sea on home made rafts in the summer of 1994.
Before 1995 all Cubans picked up at sea were brought to the United States and allowed to apply for residency under the 1966 Cuban Adjustment Act that Congress passed at the height of the Cold War after a mass exodus of Cubans fleeing the island's communist government.
The special privileges for Cubans have come under mounting criticism from longtime Cuban exiles in Miami who say they are being exploited by economic migrants from the island. Fears that the priviliges might one day be repealed have caused a massive spike in Cubans arriving in the United States in recent months to seek U.S. residency under the current regulations.
Obama's deputy national security advisor, Ben Rhodes, told reporters that in the 1960s after Cuba's revolutionary leadership adopted communism, "it was very clear that the overwhelming number of Cubans who came to the United States ... very much were leaving for political purposes."
But, "increasingly over time, the balance has tilted towards people leaving for more traditional reasons in terms of seeking economic opportunity," he added.
Conservative Cuban American critics of Obama's Cuba policy were caught in two minds. While opposed to engagement with Cuba, they agree immigration policy was too lenient. "Most of the people who are leaving these days have no good reason," said Ninoska Perez, a Cuban American radio host. "They are looking for economic benefits, and are not victims of political persecution."
U.S. officials said the policy change was decided upon partly in response to an uptick in Cubans leaving the island, in part due to fears in Cuba that the "wet foot, dry foot" policy would eventually be revoked as a consequence of the normalization process between the two countries.
During the last fiscal year (Oct 1, 2015 - Sept 30, 2016) about 54,000 Cubans showed up at U.S. ports of entry seeking to migrate, according to U.S. Customs and Border Protection data. That's double the number in 2014.
While some try and sail in homemade boats to Florida, others take overland routes via South and Central America, to reach the U.S.-Mexico border. U.S. officials said this had also created a humanitarian crisis in Central America where thousands of Cuban migrants have sought refuge on a perilous journey to the U.S. border.
About 30,000 more Cubans migrate annually to the U.S. through formal channels at the U.S. embassy in Cuba, either via families petitioning to be reunited with close relatives in the U.S. or political asylum and a global visa lottery program.
U.S. officials stressed that the Cuban Adjustment Act remained in force, meaning that Cubans who arrive in the country with legal visas would still be eligible for residency if they choose not to return to Cuba.
Rhodes said the administration would have liked to repeal the Cuban Adjustment Act as "the cleanest way" to normalize immigration relations between the two countries, but it ran out of time. "We have seven days so it's not going to happen in that time frame," he said.
.
Additional reporting by Jessica Weiss and Melvin Felix