Opinion
Repealing the ACA will hurt Latinas and Planned Parenthood patients most
"As a young, formerly-undocumented Latina who has relied on Planned Parenthood for health care, I cannot stand by and let this happen."
26 Jul 2017 – 06:34 PM EDT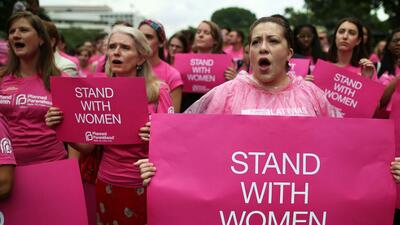 Marcha a favor de los centros de Planned Parenthood
Crédito: Getty Images
The Senate has voted to move forward with an effort to pass Trumpcare, which means that as soon as this week, a bill could pass that would leave tens of millions uninsured, charge women more for less insurance coverage, and prevent millions of people with Medicaid from going to Planned Parenthood health centers for basic, preventive care.
As a young, formerly-undocumented Latina who has relied on Planned Parenthood for health care, I cannot stand by and let this happen.
At just six years old, I immigrated to the U.S. from a small indigenous town in Mexico. As an undocumented person I experienced countless barriers in accessing everything from education to health care. I grew up thinking I could never get a driver's license or go to college. Going to the doctor was not something my family did; we knew it was expensive and we didn't know if we had the necessary documents to get us through the door.
When I was in high school some of my friends became sexually active and would mention Planned Parenthood as the place to go to for non-judgemental and confidential care. At the time, I knew I needed to start taking better care of my health. I knew my parents wouldn't be much help in telling me where to turn since accessing health care was not something we knew how to do.
With no where else to turn, I went to Planned Parenthood. I was so relieved when they did not ask me for any documentation. They didn't ask me for my social security number, and they didn't push contraception on me. They were kind and polite, completed my full wellness exam, and offered me information about contraception should I want to consider it in the future. But more importantly, they treated me like a person. I never felt afraid or discriminated against, which is an extremely rare experience as an undocumented person when dealing with any services or formal system.
Taking my health care into my hands for the first time felt good and I was eager to start making it a regular part of my life.
Then when I was 24, I switched jobs and lost many benefits including my health insurance. Soon after, my body started having a bad reaction to the contraceptive implant I had just gotten. At the time the ACA was still cost prohibitive for me and it would take some time to get enrolled and be able to access insurance, but the pain and discomfort was so severe that I couldn't wait. I knew I needed to get it removed.
If it wasn't for my previous positive experience with Planned Parenthood, I wouldn't have known where to turn. Yet again, Planned Parenthood was there for me.
They saw me right away and removed the implant and helped me find a contraception method that was right for me. People don't go to Planned Parenthood to make a political statement, they go to access health care. Planned Parenthood does not aim to push an agenda on anyone, they are there to provide health care, no matter what.
I am far from the only undocumented person or Latina who relies on them for care.
Planned Parenthood is a trusted resource for the Latino community. In fact, one-fifth of Planned Parenthood's patients – nearly 500,000 – are Latino. Without Planned Parenthood, many Latinos may have nowhere else to go for care.
Planned Parenthood is also proud to see patients regardless of immigration status, and under an administration determined to strip both women and immigrants of their rights, they are one of the few safe places that undocumented Latinos can turn to for care.
While the ACA made a huge impact on closing the uninsurance gap among Latinos, 20 percent of Latinas remain uninsured and over one quarter (27 percent) of Latinas of reproductive age are enrolled in Medicaid. Not to mention the ACA left out undocumented immigrants. Eliminating funding for Planned Parenthood would leave many Latinas and many immigrants with nowhere to turn.
As my family and I experienced, being undocumented can make accessing care more challenging. That can stop us from seeking the care we may not even know that we need -- care that could save our lives.
My struggles as an undocumented person motivated me to become an activist in my work with the League of United Latin American Citizens (LULAC) today. As relentless attacks on undocumented people continue, I cannot stand by and let our access to health care be further jeopardized.
Our U.S. Senators must be reminded that our Latino community -- one of the fastest growing and with the most political power in the country -- needs the ACA and access to Planned Parenthood. It is not too late to stop this bill from passing. Call your Senator today and tell them to vote no on the Trump healthcare bill.
Abigail Zapote is the Vice President of Young Adults for the League of United Latin American Citizens (LULAC) and a Planned Parenthood patient.