Latin America
Venezuela election turnout results questioned by voting machine company
The CEO of Smartmatic told reporters that official turnout figures for Sunday's controversial constituent assembly election were "tampered with."
2 Ago 2017 – 11:17 AM EDT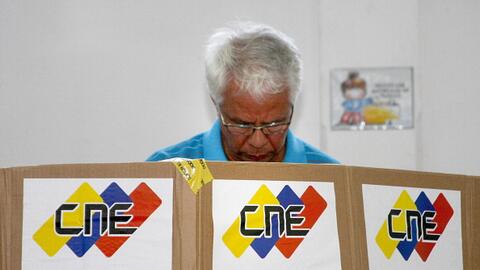 The head of the voting technology company that handled Venezuela's election on Sunday for an all-powerful constituent assembly has spoken out about the controversial results saying they were inflated.
Antonio Mugica told reporters that results registered by his company, Smartmatic, did not tally with those reported by Venezuela's National Electoral Council, indicating that official turnout figures were "tampered with."
Mugica said the official turnout was off by "at least one million votes", or 15 percent, casting doubt on the 8.1 million people authorities said had voted in the special election to rewite the country's constitution in what critics say is a brazen attempt by the ruling socialists to impose a totalitarian one party regime.
Reuters also reported on Wednesday that only 3.7 million people had voted by 5.30 p.m. on Sunday, citing internal electoral council data.
Smartmatic issed a statement on Wednesday saying "we know, without any doubt, that the turn out of the recent election for a National Constituent Assembly was manipulated."
If confirmed, the low turnout would be hugely damaging to Maduro. The opposition last month held its own unofficial vote in which it said more than 7.5 million voted against the constituent assembly. Maduro sidestepped the constituon by not holding a referendum on the issue prior to holding the special election.
"Even in moments of deep political conflict and division we have been satisfied with the voting process and the count has been completely accurate," Mugica told reporters in London. "It is, therefore, with the deepest regret that we have to report that the turnout figures on Sunday, 30 July, for the Constituent Assembly in Venezuela were tampered with."
The assembly is expected to be sworn into office Thursday and the opposition is calling on Venezuelans to protest on the streets Thursday.
In photos: A fiery explosion on Sunday engulfed Venezuelan National Guard police on motor bikes.
On Monday, two prominent opposition leaders were dragged from their homes by heavily armed security agents and thrown in a military prison Tuesday, drawing condemnation from the United States and some Latin American countries. But many other nations and international organizations were silent or limited themselves to expressions of concern.
Opposition leader Leopoldo Lopez and Antonio Ledezma were accused by the government-allied Supreme Court of violating the terms of their house arrest by plotting to escape and releasing video statements criticizing Maduro.
U.S. Secretary of State Rex Tillerson said Tuesday that the Trump administration was "evaluating all of our policy options as to what can we do to create a change of conditions where either Maduro decides he doesn't have a future, and wants to leave of his own accord, or we can return the government processes back to their constitution."
In photos: New crop of Venezuelan officials slapped with U.S. sanctions before constituent assembly elections
RELACIONADOS:
Latin America
•