Immigration
Universities demand that campuses be made sanctuaries for undocumented
Students and teachers at universities across the country protested Wednesday, urging protection for their undocumented peers. The Republican president-elect has promised to suspend Obama's executive actions on immigration.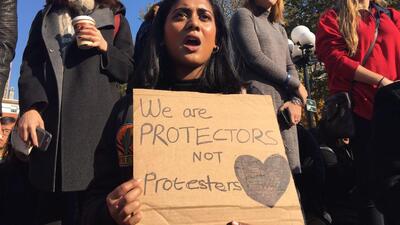 Protests in New York
Crédito: Carmen Graciela Díaz
Students across the country protested Wednesday to make campuses "sanctuaries" for the country's most vulnerable people, including undocumented immigrants.
Carlos Rojas, an organizer at Movimiento Cosecha, a national organization of agricultural workers that promoted the day of protests, told Univision that the turnout exceeded expectations and that thousands of students in more than 100 universities joined.
"Just here in Rutgers (University), where I came to protest there were more than 3,000 students who left classes," Rojas said. "This was one of the biggest."
To become a "sanctuary" for undocumented immigrants, a university must meet three conditions, according to Maria Blanco of the University of California-Davis. The university must ensure that Immigration and Customs Enforcement (ICE) will not enter campus to carry out immigration operations without a court order unless there is an urgent and extraordinary circumstance; university police will not cooperate with immigration authorities in migratory operations; and the university must refuse to share information about their students "to the extent that universities have any records that identify the status of their students."
The last point is perhaps the most delicate. Information about undocumented students who are benefiting from the Deferred Action program, which protects them from deportation and grants them a work permit, is in an unprotected database accessible to the government.
A total of 800,000 students - of 1.2 million eligible - are protected by the Deferred Action program (DACA) announced by President Barack Obama in 2012. But President-elect Donald Trump has promised to revoke the program.
"The big question is what will the Trump administration do, if it does anything, with the three quarters of a million names in the DACA database," said Terry Hartle of The American Council on Education, to the Washington Post.
A recent study by the University of California at San Diego indicates that DACA beneficiaries have improved their quality of life since the program was implemented; 95% work or study, and their average hourly wage increased by 42% in four years, going from $9.83 per hour to $13.96 per hour.
For Univision's full coverage of the day of protests, see our live blog (in Spanish).