Immigration
Carlos Slim has a plan to help Mexicans Make America Great Again
The Mexican magnate Slim is helping fund workshops for would-be immigrants, including teaching them how to defend their rights.
14 Mar 2017 – 06:20 PM EDT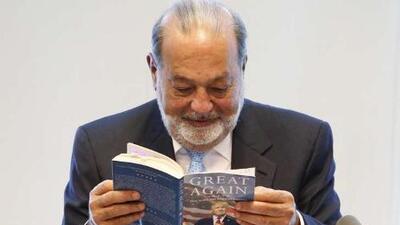 MEXICO CITY - Mexican telecom magnate Carlos Slim has joined forces with Mexico's largest university and the country's human rights agency to hold workshops for Latinos in the United States on how to obtain U.S. citizenship.
The National Autonomous University of Mexico, known as UNAM, says the Carlos Slim Foundation and the National Human Rights Commission signed the agreement Tuesday.
UNAM will train 50 instructors who will give 10 workshops at its satellite facilities in San Antonio, Chicago, Seattle, Los Angeles and Tucson, Arizona. The Slim foundation will publicize the effort through its Acceso Latino web platform.
The workshops will focus on an estimated 2 million to 3 million Mexican migrants who might be eligible for U.S. citizenship but haven't completed the process.
Migrants will also be taught how to defend their rights.
in January, Slim held a rare news conference in which he offered to assist Mexico's President Enrique Pena Nieto in negotiations over President Donald Trump's plan to build a wall on the border and put a 20 percent import tax on Mexico to pay for it.
"We have to support the president of Mexico, so he can defend the country's interests," said Slim, the world's fourth-richest man. "I would be very interested in seeing this unity last."
However, Slim said he is not a fan of the border wall tax, arguing that any tariffs would end up being paid by American consumers.
"We should not be scared of Trump or think things will necessarily go badly," Slim said. "Trump is not the Terminator, he is the negotiator."
Before the elections Slim went as far as suggesting that a Trump presidency could be good news for Mexico. At a forum with former New York City Mayor Michael Bloomberg Slim discarded the pessimistic narrative about how Trump's hard-line views on immigration and free trade could shake Mexico.
The telecommunications magnate said that if Trump achieves his promises to expand the U.S. economy, create millions of jobs and lower middle-class taxes, it will be "fantastic" for Mexico by increasing U.S. consumption.
And Trump's promise for big spending on infrastructure projects would mean more jobs for Mexicans because there are not enough Americans to fill them, Slim said.
He added that Trump's tough talk toward Mexico should spur the country to refocus on investing in its own economy.
Even the government's most prominent critic, leftist presidential hopeful Andres Manuel Lopez Obrador, has called on Mexicans who three weeks ago were marching in the streets against the government's polices to support Pena Nieto.
Rising crime, a sluggish economy and a series of corruption scandals in his party had already sent the president's popularity reeling. Things got even worse when the government — which originally promised lower fuel prices — imposed a sudden 20-percent increase. Nationwide protests and widespread looting broke out and Pena Nieto's approval ratings collapsed to a historic low of 12 percent in mid-January.
In January Slim also announced plans to launch a U.S. television channel geared towards Mexican audiences. The new channel will be called Nuestra Visión (Our Vision).
"Nuestra Visión is focussed on Mexicans, made by Mexicans and transmitted from Mexico," said the narrator in a promotional video. It will air news, movies, sports highlights and will aim to be "100%" Mexican and in support of Mexico's heritage.