Latin America & Caribbean
5 things to know about the protests in Nicaragua
As many as 27 people have died in protests over controversial reforms to the Social Security tax system and pensions. The IMF has been warning Nicaragua that its social security system is in urgent need of "comprehensive reform" to avoid running out of reserves by 2019.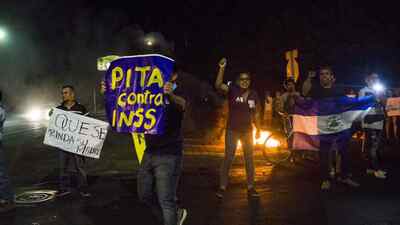 The protests have spread to the main cities of the country and clashes with police and Sandinista youth left dozens injured.
Crédito: Jorge Torres / Efe
Thousands of Nicaraguans have taken to the streets in recent days to protest a controversial increase in social security taxes and a reduction in pensions that have left at least 27 people dead in clashes between students, pensioners and the police.
What are the protests over?
The protests started after President Daniel Ortega issued a decree to increase taxes and changed pensions to try to bailout the country's failing social security system (INSS).
The change requires employees to contribute 0.75% more of their salary to social security, up from 6.25% to 7%. Employers will have to contribute 22.5% of salaries from a current 19%.
Pensioners will also have to pay 5% of their pension to cover medical expenses.
After four days of protests, Ortega cancelled the social security package on Sunday and said he was willing to dialogue.
They appear to be an unusual mix of students and pensioners, as well as some businessmen, according to Univision correspondent Wilfredo Miranda Aburto. Members of the pro-government Sandinista Youth have also joined in, attacking protesters and journalists.
Fatalities so far include numerous students, a journalist shot while doing a live radio report, a police officer, and a pro-government activist.
Nicaragua's vice president, Rosario Murillo, the wife of President Daniel Ortega, downplayed the protests as "tiny groups," accusing them of being "vampires seeking blood to nourish their political agenda."
But media reports and videos posted on social media have shown large, angry crowds in a number of cities.
Students in the capital Managua took over an engineeering university, throwing stones stones and Molotov cocktails. Police responded with tear gas and rubber bullets. In Masaya, a stronghold of Ortega's left-wing Sandinista movement, hundreds of marchers were attacked with sticks by government-controlled youth mobs, known as 'turbas divinas,' (divine mobs), leaving some injured.
Some of the Sandinista Youth ride motobikes with their faces hidden behind visored helmets, wielding metal pipes and sticks. The mobs brutally beat dozens of young people, the elderly and independent journalists covering the protest. The Nicaraguan Center for Human Rights (Cenidh) reported several people with head injuries.
In Granada, a large crowd cheered as the iconic red and black Sandinista Front flag was lowered from the Plaza de los Leones.
What caused the social security crisis?
The INSS is in crisis due to years of government mismanagement, using it as a vurtual piggy bank to finance projects. Media reports in La Prensa and Confidencial have highlighted poor INSS investments, especially in failed housing proyects linked to alleged Sandinista cronies.
In a populist gesture, Ortega in 2013 also announced a "pension reduction" to allow people to retire even without the required number of weeks worked.
The International Monetary Fund has been warning for the last 18 months that severe reforms were necessary to put its financial house in order, including a reduction in its administrative costs, including bloated salaries and payroll.
In June 2017, the IMF reported: "Nicaragua's social security system ... is projected to run out of liquid reserves by 2019, several years earlier than anticipated. To avoid burdening the budget, reforms to the system are urgently needed." It added that "the authorities should act quickly to avoid a costly bailout of the system."
"The reforms were necessary, but Ortega did them without negotiating with the businessmen, in part because of the urgency of obtaining money at all costs," says Carlos Fernando Chamorro, a prominent journalist and founder of the online newspaper, Confidencial.
Ortega, was one of the nine 'comandantes' who led the Sandinista Revolution which in 1979 toppled the U.S.-backed dictatorship of Anastsio Somoza. He ruled Nicaragua between 1985 and 1990, and was reelected in 2007. Ortega won a highly questionable reelection in 2011 after changing the constitution to allow him to run for a new term. In Nov 2016 he won a third consecutive term - with his wife, Rosario Murillo, as his running mate - in a landslide with 72% of the vote. Opposition leaders decreied the election as a "farce."
Ortega is closely allied to Cuba's ruling Communist Party an the left wing Venezuelan government of Nicolas Maduro and critics accuse him of following in their footsteps by taking over control of virtually all state institutions, including the electoral tribunal, the supreme court and congress.
But, unlike Cuba and Venezuela, Ortega is credited with overseeing stable economic growth, while avoiding the gang violence and criminality of its neighbours El Salvador and Honduras.
The government ordered five independent TV channels that have been covering the unrest off the air. Local television station "100% Noticias," which was broadcasting the protests live, had its signal abruptly cut. The television station took to Twitter to call the move "arbitrary and illegal."
Several journalists were attacked by Sandinista Youth mobs, includign AP photographer Alfredo Zuniga. In response to reports that pro-government groups assaulted students and journalists and stole their equipment, Erika Guevara-Rosas, Americas director at Amnesty International, said: "The Nicaraguan authorities must guarantee that people are able to freely express themselves without fear of repression. The State must put an immediate end to all acts of aggression against the public and the press and launch a timely, impartial and independent investigation to bring to justice all of those responsible for these sinister attacks."