Immigration
New spy tools can put immigrants at risk
Police agencies are buying equipment and programs that intercept cell phones. For undocumented migrants, that could pose a risk.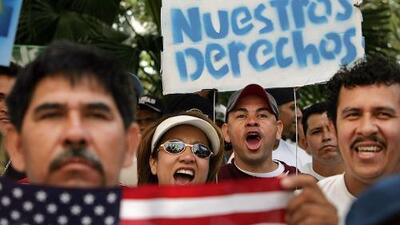 Almost 11 million undocumented immigrants live in the United States
Crédito: Getty Images
Undocumented immigrants face a largely unforseen and hidden risk of abuse due to the growing number of police departments that are buying equipment and programs to intercept cell phones, according to media activist Steven Renderos.
"Immigrants tend to be the canaries in the coalmine when it comes to the collection and tracking of data," said Renderos, director of the Center for Media Justice. The way they are treated by local and federal authorities points to the dangers that all U.S. residents may face in coming years, he added.
And that's especially worrisome because of the spy technology increasingly used in the United States, according to a detailed report by CityLab on the increasing number of municipal police departments capable of intercepting cell phone communications. Los Angeles officials spent $123,000 purchasing the technology. In Chicago, it was nearly $500,000.
What's clear from the report is that local police departments are spending thousands of dollars for two types of tools: equipment to obtain data from cell phones, such as lists of calls and text messages, usually without accessing their content; and programs to unlock phones seized by police.
The equipment and programs have generated important questions about privacy rights and their legality when used without court orders. But it also increases the risks for undocumented migrants already exposed to swift deportations, Renderos said.
Those risks have become more relevant in recent months because an executive order by President Donald Trump that shifted the priorities for deportation to focus on undocumented migrants accused of a crime or suspected of "a chargeable offense."
George Joseph, author of the CityLab report, wrote that Trump would need the assistance of local police to carry out his deportations proposals. Police could use the digital spy systems to locate undocumented migrants through their cell phones – and perhaps even develop information on groups of migrants who communicate among themselves.
Renderos, an expert on police technologies and founder of the initiative "The Color of Freedom," said police already use equipment and programs that could be used to target immigrants.
Renderos also mentioned the use of biometric data, which include fingerprints, iris scans and even DNA – to establish family relationships, for example. Immigrants likely account for the majority of that type of information held in U.S. databases because it is required for visa applications.
That information cannot be hidden from U.S. officials because it is already in U.S. databases, he said, but undocumented migrants can still take steps to protect their cell phones.
They should use encrypted apps for sending text messages instead of the simple texting apps that come with cell phones, he said. One popular encrypted app is Signal, which is free. They should not post information on social networks that could lead police to them or their friends. And they should never use their fingerprint to unblock their cell phones. Use a four or six-digit code instead.
"It's also important to know your rights on cell phones … You don't have to unblock your phone for the police. Don't make their work any easier," said Renderos, adding that more information on protecting data is available on the Web pages of the Electronic Frontier Foundation.
Immigrants say they already have been feeling the increased surveillance, even before Trump was sworn in as president. Noemi Romero, 25, an undocumented immigrants who lives in Phoenix, told CityLab that she spotted a drone during recent protests against the deportation of Guadalupe Garcia. "It was flying, and we could see the camera," she said.
Romero said the drone was just a new chapter in an experience common to all migrants.
"We have lived under surveillance our whole lives," she said. "They put monitors on our ankles. ICE sets traps for us and our families. That is already a part of our lives,"
But she is neither afraid nor surprised over the possibility of increased surveillance. "We knew that something like this could happen," she said. "And we will continue to fight."