Immigration
In the age of Trump, fear drives some undocumented immigrants back into the shadows
Trump's tough immigration policies have forced many undocumented immigrants who once fought publicly for reforms to consider a lower profile.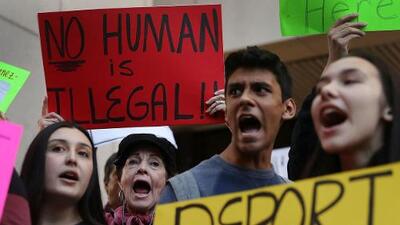 A protest in front of Miami-Dade Mayor Carlos Gimenez's office against his decision to end a sanctuary policy that protected undocumented immigrants who had been arrested.
Crédito: Joe Raedle/Getty Images
MIAMI, Florida – When Donald Trump won the presidential election in November, Juan Carlos Olmos cried. "I woke up at 3 in the morning to see who had won, and believe me, I cried," said the 25-year-old Mexican immigrant who has worked in south Florida's corn and bean fields for more than six years. "I was desperate. My only question was, 'What are we going to do?'"
Olmos lives in a neighborhood with many farm workers from Mexico and Central America – most undocumented like him – and sensed that Trump would not be good for them. "Since the election there's been a lot of stress and fear, about getting in a car, about going out on the street and even going to work. That's always been there, but it increased during the election campaign and grew even worse with the results," he said.
His fears only grew in recent weeks. First, there was Trump's executive order to cut federal funds to "sanctuary cities." Then Miami-Dade Mayor Carlos Gimenez reacted by ending a policy that shielded jailed undocumented migrants from federal immigration officials.
And in recent days there's been a wave of unconfirmed immigration raids. Olmos said he's seen police vehicles and cars from Immigration and Customs Enforcement (ICE) lurking near the farms where he works.
"At first I thought I was exaggerating, but on Monday it was too much. They drove by about 10 times. I took photos, sent them to my friends and I had to tell my boss," he said. "We are all afraid to lose the little that we have, because we work day to day but can't make much headway because of our situation."
" There are mothers who don't want to take their children to school"
Olmos, who came from Monterrey in 2010 with the hope of studying but wound up overstaying his tourist visa and working in the fields, knows the future of undocumented immigrants is not good. But he believes that the only answer for him and his community is to remain united and continue fighting for their rights. That's why he's decided to remain active, keep his undocumented friends informed and join as many protests as he can.
"I've been more active in the protests recently. I know we're a little afraid, but if we stay together it will be more difficult for them to do something against us," he said.
The increased fear that Olmos noted is the new reality for many undocumented immigrants in the country. During the Obama administration, many of them came out of the shadows to be public activists for immigration reform. But Trump's anti-immigrant campaign rhetoric and the first measures adopted by the new White House have pushed some to reconsider even leaving their homes.
"People are calling me all the time, afraid of the raids. There's panic. There are mothers who don't want to take their children to school," said Ale Saucedo, a member of Dreamers' Moms, a group of mothers who brought their undocumented children to the United States. "We all work and study English. We are trying to get ahead, and in the end they won't even want to get on a bus for fear of being asked for their documents."
During the presidential campaign, group members knocked on doors and made calls to encourage people to vote for candidates who favored immigration. The women also joined public protests and called news conferences whenever one was detained or summoned to meetings with immigration officials.
The fight to make Miami protect immigrants
But that all changed radically in just a few months. Few of them now dare to speak to journalists, and they stick to prayers and messages on social networks rather than public demonstrations whenever one of them is summoned by U.S. officials.
"At the end of the year (2016) we met and the mothers said, 'My children are not afraid, and neither am I.' Today it's different. It's inhuman," said Saucedo, who speaks for the group because she is one of the few members who has legalized her status.
María Asunción Bilbao, born in Argentina, is another Miami activist who sees the fear in the community. After 16 years without documents, she managed to obtain a work permit. But she believes that now more than ever she must fight for the rights of immigrants. That's why she participated in many of the protests against Gimenez. "We understand the panic in the community, because we have felt it," Bilbao told Univision News. "I understand the significance of Gimenez joining that deportation machine that Donald Trump is putting in place."
Gimenez's decision to reverse a 2013 decision that gave some protection to undocumented migrants detained by local police means that county officials are now required to hold them for 48 hours when ICE requests it. "The mayor has to understand that the people are scared, and that makes them suspicious of the police," she said. "And that's bad for everyone."
Gimenez and police officials have repeatedly insisted that county officials will not do the work of ICE. But fear has spread nevertheless. "We are here to protect victims and arrest criminals," Miami-Dade police spokesman Alvaro Zavaleta told Univision News. "We cannot allow the victims in our communities to feel afraid of calling those who are here to protect them. The message that we have to send is to trust your police, because we're here to protect our community, not to go and search it."
He added: "If you break the law, that's different. But if you have not committed any crime, you have no reason to be afraid."
That's why Olmos is staying on the front lines of the fight for undocumented rights. "I am still afraid, and I have to be careful. But as long as I don't break any laws or something like that, I am good," he said. "We're not going to let them silence us, and I want to pass that message to my community."
Although he believes that immigration reform is now less likely than ever, he said he will not stop fighting for it. "The only thing we need to do is to be united and continue fighting for our rights," he said.
For her part, Bilbao has been encouraging undocumented activists who now fear the limelight to organize in a new way.
"Maybe now the protests must be carried out by those of us who have a privileged position, because we are in the process of obtaining residence. Maybe it will be the children of the people without documents," she said. "But we won't do anything by staying home. The power of the community is in organizing and remaining connected. And that's what we have to hold on to."