Latin America
Under Brazil's new government, indigenous and Afro-Brazilians fear for their rights
The "Bullets, Bible and Beef" caucus is rising in prominence under Interim President Michel Temer.
21 Jun 2016 – 03:45 PM EDT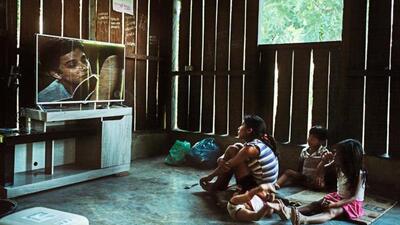 A Munduruku family watches TV in Para state, Brazil.
Crédito: Aaron Vincent Elkaim | Univision.com
When he assumed office May 12, Brazil's Interim President Michel Temer pledged to bring "order and progress" back to the country, a reference to the nation's motto. He said Brazilians should have "confidence" the country will pull itself out of a crisis sparked by corruption, deep economic recession and political instability.
But, far from bringing progress, the country's indigenous, Afro-Brazilian and other vulnerable communities fear that Temer's reforms will threaten their rights and put protected wilderness lands at risk.
What has them concerned is a so-called "Bullets, Bible and Beef" caucus of evangelical, conservative and agribusiness-friendly politicians who won a record numbers of seats in the 2014 election and gained more power in Temer's cabinet after former president Dilma Rousseff's impeachment last month and temporary removal from office.
"[With] a conservative national congress, the most vulnerable members of the population – women, blacks, quilombolas [descendants of escaped African slaves], indigenous people and the LGBT community – are most at risk," says Maíra Kubik, an expert on minority rights and a professor at the Federal University of Bahia.
Following Rousseff's ouster on May 12, Temer charged his ministers with delivering business-friendly reforms while maintaining social programs that were his predecessor's hallmark. But he quickly scrapped agencies such as the Human Rights Secretariat, causing an uproar from U.N. Special Envoy for Indigenous Rights Victoria Tauli Corpuz, who said the move could endanger indigenous peoples' rights.
Four days later, 6,000 indigenous people from tribes in the northeastern state of Pernambuco protested Rousseff's impeachment. Similar protests were held in Brasilia by members of the Guarani tribe, fearing a reversal of their land rights.

Brazil's Socio-Environmental Institute (ISA), together with a coalition of indigenous and civil society groups, started a nationwide campaign against the interim government. The chant "The government is provisional, but our rights are not!" was heard in demonstrations across the country.
Meanwhile, environmental and human rights organizations are rallying against two proposed constitutional amendments (PEC 215 and PEC 65) that would give Congress the authority to demarcate indigenous lands and weaken existing environmental licensing laws. PEC 215 would allow protections for all indigenous reservations – past, present and future – to be changed by Brazil's legislature. That worries activists, who point out an estimated 250 members of Brazil's Congress are linked to the mining and agricultural lobby, and almost half of the agricultural land in Brazil is in the hands of 1 percent of landowners – one of the highest such concentrations in the world. There are currently close to 400 existing indigenous reservations under review. PEC 65 would allow for fast-tracking public work and infrastructure projects by loosening environmental licensing procedures.
Fiona Watson, research director at Survival International, a London-based organization that campaigns for tribal peoples' rights, says PEC215 would be "catastrophic for many indigenous people in Brazil." She adds that the law could open the floodgates to large-scale infrastructure projects, which could displace already vulnerable populations. "It's a thinly veiled attack by a group of politicians and Brazil's burgeoning agribusiness on the Indians' hard-won land rights," she said.
One of the bill's top advocates is Senator Blairo Maggi, Brazil's newly appointed agriculture minister. Maggi is a billionaire soybean tycoon with a track record as a champion deforester, overseeing the logging of huge swaths of Amazonian rainforest in his home state of Mato Grosso.

In addition to indigenous communities, some worry quilombos, or communities that house the descendants of escaped slaves, may also be at risk. Over half of quilombolas live under the poverty line, unable to properly access government benefits, in part due to their isolation. High suicide and alcohol abuse rates plague both indigenous peoples and quilombolas; the Guarani-Kaiowa, a tribe from Mato Grosso do Sul state, now have the highest suicide rate in South America, affecting mostly youth age 15 and 25.
Temer gave the education ministry, led by the Democrats Party's Mendonça Filho, responsibility to handle the demarcation -- or giving of official status and boundaries -- of quilombo communities. In the past, the party has tried to prevent affirmative action quotas in universities and make quilombo demarcation more difficult.
This worries environmentalists, who say both indigenous reservations and quilombos safeguard against environmental destruction, especially in the Amazon. Indigenous reservations cover roughly 20 percent of the Brazilian Amazon, which has worked as a critical defense against a rising tide of logging and mining in wilderness areas. A study by the Woods Hole Research Center in the U.S. and the Amazonian Institute for Environmental Research in Brazil found that deforestation in the Amazon was up to 1.7 to 20 times higher outside of indigenous reservations; forest fires were also found to be much more likely outside of reservations.
To be sure, Rousseff's administration wasn't considered a beacon of environmental protection and human rights. It was under Rousseff that the long-stalled Belo Monte mega-dam – the world's third-largest dam – was finally authorized and built with major ecological consequences. She also had the worst track record of any Brazilian president to date on indigenous land demarcations.
However, Rousseff passed more indigenous and quilombo land demarcations in her last four months in office than in the previous six years of her presidency.
She signed off on the land demarcation of the Munduruku – a tribe of almost 12,000 people – which effectively halted the construction of the controversial Sao Luis do Tapajos dam on their land. The Sao Luis do Tapajos, if built, would be Brazil's second-largest dam, flooding 279 square miles of forest inhabited by the Munduruku and other communities.
Some analysts think the new administration may show restraint. "Agribusiness will be there, but it's been there all along," says Paulo Sotero, director of the Brazil Institute at the Wilson Center, a Washington-based think tank. "The interim government can't afford to get politically involved in a scandal," he added. "The government knows it's vulnerable, so they have to respect people's rights … sustainability is one of the top priorities."
In his inaugural speech, Temer promised that he would not do away with social programs, such as Bolsa Familia, a cash-transfer program that has helped to lift over 30 million people out of poverty. He also chose a Green Party politician, Jose Sarney Filho, to head the environmental ministry.
But Kubik, facing a future with agribusiness legislators, is not reassured. "We are facing a catastrophic scenario," she said. "Now a holy trinity from the 'Bullets, Bible and Beef' [elite] is in charge."