Hip Hop
Kendrick Lamar & Rihanna Team Up To Shoot Music Video
Leaked social media clip appears to be show glimpse of new music video
Jun 12, 2017 – 1:19 PM EDT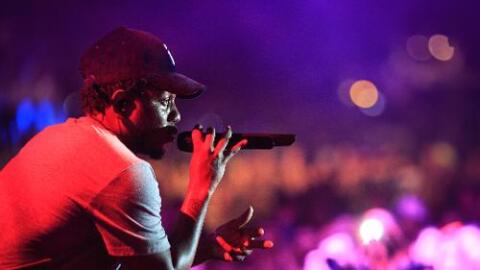 It appears that Kendrick Lamar and Rihanna recently got together to shoot a music video for their collaboration, "LOYALTY."
The 12-second video, posted by an unverified Rihanna Fanpage Twitter account, shows Lamar blindfolded in a chair while a woman who appears to be Rihanna sings to him.
Lamar spoke to Beats 1 back in April about what it was like to work with the award-winning pop star.
"I've always wanted to work with Rihanna. I love everything about her, her artistry, how she represents women to not only be themselves but to express themselves the way she expresses herself through music and how she carries herself. I love everything about her, so I always wanted to work with her. I did the record and immediately, her name popped up. Reached out, we locked in a studio, and made it happen."
Neither of the two Grammy winners have announced when the full-length music video is expected to be released.
Kendrick Lamar and Rihanna's Best Moments at The Grammys